Society honours SA's justice leaders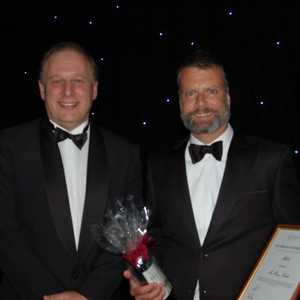 The president-elect of the Law Society of South Australia was presented with the Society's most prestigious award at its gala ball this month.
Morry Bailes (pictured right with his Award alongside SA Law Society executive director Stephen Hodder), who is also the managing partner of Adelaide's Tindall Gask Bentley Lawyers, was presented with the Brian Withers Award at a ball held on 2 August.
The Award recognises outstanding service to the legal profession.
"It's not often the Society would confer this award to the president-elect of the Society, but Morry's voluntary work over the past 12 months was too great to ignore," current Law Society president John White said.
"He has been an outstanding leader whose immense service to the legal profession is matched only by his contribution to the community in general."
One of Bailes' major achievements has been his recent work on the Compulsory Third Party (CTP) insurance reforms. Bailes worked tirelessly in his role as chair of the Joint CTP Reform Executive involved in ongoing negotiations with the Government, and his work led to major improvements to the legislation.
In the past 12 months, Bailes has also become a Law Council of Australia Director, played a major role in developing the Law Society's strategic plan, has been a member of the Legal Professional Act amendment working party, and chaired the Graduate Diploma of Legal Practice (GDLP) working group, resulting in a joint GDLP venture with the University of Adelaide.
"Morry is always willing to go into bat for the community, as shown by his unwavering commitment to improving personal injury reforms," White said.
Shared justice
The Society also presented the Justice Award, which was shared by The Hon. Robyn Layton AO QC and Fisher Jeffries partner Nick Linke (both pictured left).
The Award recognises outstanding commitment to access to justice in SA, particularly for socially and economically disadvantaged people.
Layton is one of SA's most high-profile human rights activists and a powerful advocate for indigenous, refugee and children's rights.
During her 40-year legal career, Layton has maintained a commitment to advancing and protecting the rights of the disadvantaged.
Named South Australian of the Year in 2012, Layton currently chairs the National Advisory Board at the Australian Centre for Child Protection, is co-chair of Reconciliation SA, and provides training and workshops for legal practitioners on human rights and international labour standards.
Linke has been instrumental in setting up pro bono provider JusticeNet, and regularly takes on challenging pro bono cases. He has also provided pro bono work at more than 50 non-profit organisations, including Catherine House and Creative Partnerships Australia.
He also recently won the national Arts Community Pro Bono Award.
 "Both recipients are highly deserving winners of the Justice Award. They have displayed a sustained commitment to providing access to justice to marginalised people," White said.
"They exemplify what it means to be in the legal profession."
Barrister Claire O'Connor (pictured below left with Bulletin Committee member Steven Thomas and second-placed Ralph Bonig) won the award for Bulletin Article of the Year, for her article, Privacy and the law: Another case for a Bill of Rights. This Award completes a treble for O'Connor, who has previously won the Brian Withers and Justice Awards.
John Goldberg (pictured below right) won the Opinion of the Year Award for his piece, Blood Runs Thick.