JWS helps to build women's network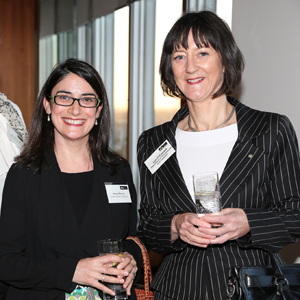 Johnson Winter & Slattery has thrown its support behind the just-launched Australian chapter of Women's Infrastructure Network (WIN).
The firm was an event partner of the official launch of WIN Australia, which took place at a cocktail function hosted by AMP Capital last week (26 September).
The Hon Gladys Berejiklian MP, the NSW Minister for Transport, was a keynote speaker at the event and discussed the transformation of the state's transport.
Karina Marcar, M&A partner at JWS and a steering committee member of WIN in Australia (pictured left with WIN advisory committee member Lyn O'Connell), said she did not hesitate to get involved in establishing the network in Australia.
"For me, the appeal is the opportunity for women to have a forum to network across the breadth of the sector – from builders, operators and the public sector to financiers, investors and professional services firms."
Marcar revealed that the launch has generated such strong interest from the infrastructure industry that WIN Australia is already looking into opportunities to sponsor university scholarships relevant to the sector.
Pictured: (l-r) Tania Noonan, senior counsel – Disputes, AMP Capital; Peter Slattery, managing partner, JWS, and Johanna Croser from JWS.
Despite there being more senior women in the infrastructure industry than ever, progress has been slow, according to Joanne Staugas, leader of JWS's projects and construction specialist group. She urged those in positions of influence to support women to break into the industry's often male-dominated networks.
"I believe there is a lot that women can do to help other women by drawing on their own experiences and tapping into their contacts."
Established in the US in 2008, WIN has expanded to the UK, Canada and now Australia. WIN's mission is to help women to emerge as leaders in the infrastructure field.