Abbott puts politics above war crimes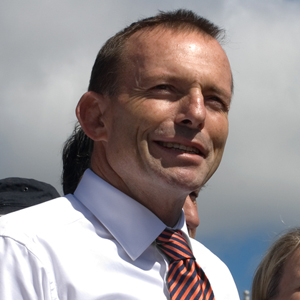 Australia's foremost legal human rights body has hit out at Tony Abbott for brushing aside alleged Sri Lankan human rights abuses.
Australia's foremost legal human rights body has hit out at Tony Abbott (pictured) for brushing aside alleged Sri Lankan human rights abuses.
The Prime Minister has come under fire from Australian Lawyers for Human Rights (ALHR) for comments he made at the Commonwealth Heads of Government Meeting (CHOGM) in Colombo last week.
Commenting on torture allegations against Sri Lanka, where the government is accused of failing to properly investigate allegations Sri Lankan forces killed up to 40,000 Tamil civilians in the final months of the civil war in 2009, Abbott said:  "sometimes in difficult circumstances, difficult things happen".
"To ensure the success of domestic refugee policy it seems the Prime Minister is willing to brush aside credible allegations of war crimes against the Sri Lankan government" said John Southalan, the president of ALHR. 
Sri Lanka and Australia have agreed to cooperate more closely in an effort to stop people smuggling, with Abbott gifting two Bay-class patrol boats to Sri Lanka to use to intercept possible people smugglers, at a reported cost of $2 million.
"Mr Abbott's suggestion that Sri Lankans are now living in a society of greater freedom and security does not accord with the ongoing reports of disappearances, harassment and intimidation from security forces, forced eviction and torture," said Southalan.
"It also completely ignores the almost total power held by the president and the breakdown of the rule of law, including the dismissal of the chief justice and the assault and harassment of other judges, lawyers and journalists."
The Commonwealth Lawyers Association had also previously called on the Australian Government to boycott the CHOGM to protest human rights abuses in Sri Lanka.   
 "Our Prime Minister appears to be turning a blind eye in order to keep Sri Lanka on side to stop the boats; however, reinstating the rule of law and holding war crimes perpetrators accountable would end the need for Sri Lankans to seek asylum," said Southalan.
He added that Abbott's stance left him out of step with the international community; both the Canadian and Indian prime ministers boycotted the CHOGM, while UK prime minister David Cameron did attend but was critical of continuing human rights abuses in the country.
"What has happened and is happening in Sri Lanka is more than a 'difficult situation', it is a violation of the most fundamental human rights," said Southalan. "The perpetrators must be held accountable and our Government should be joining with the international community in calling for an independent investigation, not making excuses for it."
Southalan said Abbott's comments marked "an alarming shift" in Australia's approach to international law, pointing out that Australia is a signatory to the Universal Declaration of Human Rights and that it has previously put pressure on other countries to implement treaties outlawing torture.
"With Australia now on the UN Security Council, and next year hosting the G20 summit, we cannot engage in double-standards diplomacy," said Southalan.
"It is a very worrying development that the Prime Minister appears to be suggesting that Australia 'accepts' that sometimes torture will happen."