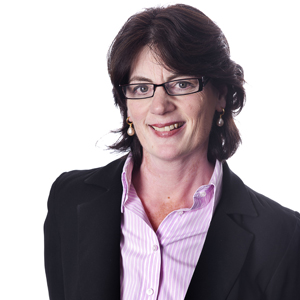 A landmark study by the Law Council of Australia has found that women face significant levels of discrimination, with one of the study's key figures telling Lawyers Weekly the profession is a "men's only club".
A landmark study by the Law Council of Australia has found that women face significant levels of discrimination, with one of the study's key figures telling Lawyers Weekly the profession is a "men's only club".
Fiona McLeod SC (pictured) described female attrition as a symptom of a profession that still caters to men ahead of the release of the National Attrition and Re-engagement Study (NARS), which will be launched in Canberra today (14 March).
"Our problem is not with women, they are just the canaries in the coal mine; our problem is with the profession and the fact that we're still operating basically as a men's only club where some women get let in on a case-by-case basis," said McLeod, an executive member of the LCA.
McLeod, a key figure in the development of the national study, described it as a "watershed moment" for the legal profession.
An online survey gathered data from 3801 practising lawyers, 84 lawyers who had left the profession and 75 individuals who have completed a law qualification but have not practised law; 82 of these respondents also participated in in-depth interviews.
Just over 70 per cent of the practising lawyers who completed the survey were women. The majority of respondents (64%) were aged between 25 and 34.
Discrimination rife
The resulting 150-page NARS report includes damning statistics on the rate of discrimination, bullying and harassment in the legal profession.
Half of all women claimed to have experienced discrimination due to their gender, compared to just over 10 per cent of men. One in four women said they were discriminated against due to family or carer responsibilities.
A number of women also reported receiving unwanted advances, feeling objectified or being exposed to inappropriate sexual behaviour.
Overt examples of gender discrimination ranged from being allocated different types of work, to being rejected or judged as less competent by clients and colleagues. Subtler forms of discrimination were also reported, including demeaning and condescending language by clients and colleagues and exclusion from conversation or social activities.
Discrimination was not limited to male offenders, with a number of women identified as the perpetrators.
The study also found an equally staggering number of women (50%) and one in three men said they had been bullied or intimidated in the workplace. These figures could be linked to the confrontational nature of legal practice.
"Characteristics such as assertiveness, resilience, competitiveness and self-confidence are valued in the legal profession, but can be seen to extend to bullying and aggressive behaviour," the NARS stated.
McLeod admitted that the profession tolerates a certain level of bullying and harassment, particularly of junior lawyers.
"We may have had our eye off the ball a little and have not done enough to ... engender a culture where those sorts of things are absolutely unacceptable," she said.
"We have to communicate an absolute zero tolerance for bullying and harassment."
Billing pressures
The report singled out the billable hour as being a key driver of dissatisfaction among women, however, it did not recommend that time billing be ditched altogether.
"The hours, the billing, the time recording, the billing; the pressure of that sort of thing was just phenomenal," said a female lawyer working in the government sector.
Another woman who is no longer a practising lawyer commented: "The six minute units and the relentlessness of time recording and billing and meeting the budget, I'm just over it."
On the topic of alternative billing models, an unnamed industry body stated: "I don't think you could tell firms that they have to change the way they bill and expect them to go 'okay' unless you presented them with a realistic alternative."
McLeod claimed that abolishing the billable hour will not solve the profession's attrition problem.
In her view, billable units are simply a measure of performance that can negatively impact lawyers by rewarding time spent on completing tasks rather than rewarding outcomes.
She added, however, that this does not go to the heart of what is holding the profession back from genuine progress.
"The broad question for all of us is: how do we create fulfilling and interesting legal careers where we provide first class legal service to clients in a variety of challenging and interesting cases ... how do we all get to do that?," said McLeod.
Included among dozens of recommendations to help reduce the rate of attrition were the promotion of flexible work practices and exploration of alternative billing models.
McLeod revealed that the LCA will prepare a discussion paper for consideration by its constituent bodies that not only examines the report but also suggests specific initiatives.
She also said the LCA would take a facilitative, "keeping up momentum" role to prevent the recommendations being relegated to the 'too hard' basket.
The NARS will be officially released at the National Press Club in Canberra today at 12pm. The event will also include a keynote by Henry Davis York managing partner Sharon Cook and a panel discussion featuring: Fiona McLeod SC, Helen Conway, director of the Workplace Gender Equality Agency; Sally Macindoe, partner and global head of diversity at Norton Rose Fulbright, and Baker & McKenzie managing partner Chris Freeland.