Boutique bonanza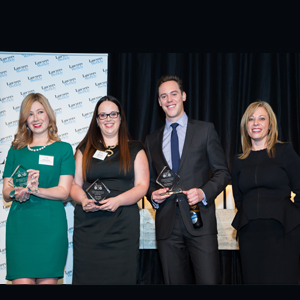 Two of the winners in the Workplace Relations, Employment & Safety Award come from specialist firms.
Clare Kerley is a lawyer with Matthews Folbigg in Parramatta. The 29 year-old said she was "very surprised" to be selected as a winner.
"When I saw the other nominees in this category I thought I had no chance," said Clare. "They are all very accomplished and workplace law is very collegiate, so I knew some of them and know they are really good lawyers, so I was just happy to be nominated."
Clare is being far too modest, with her submission pointing to a level of skill and accomplishments that would put many senior lawyers in the shade.
"Clare is a great example of someone who has taken a non-traditional path to success in law and as such is an excellent role model for today's law graduates at a time of deep change in the industry," said the judges.
Erin Lynch is another outstanding young lawyer who has taken a non-traditional route in her legal career. A senior associate at People + Culture Strategies, the former president of the Macarthur Law Society on Sydney's western outskirts was involved in her local legal scene at the commencement of her legal career.
"I worked as a solicitor at the Macarthur Legal Centre for the first two years of my career, and that gave me a good grounding," she said.
Erin, one of three winners who graduated from the University of Wollongong at the Lawyers Weekly 30 Under 30 Awards (King & Wood Mallesons duo Stephanie Puris, one of the College of Law Pro Bono winners, and Megan Coall, a winner in the JLegal Energy & Resources category, are the other two UOW alumni), continues to give back to the profession by acting as a mentor in the 'Lucy Mentoring program' for young female law students.  Erin has also drafted three chapters in the LexisNexis Workplace Law – Fair Work publication.
Mills Oakley's David Burnton flew the flag for large law firms in this very competitive and specialised category.
The Melbournian came to the Awards with a large crew of colleagues and supporters, and they did not leave disappointed.
The judges noted David's combination of impressive legal acumen and his commitment to industry-wide issues, such as workplace culture. He also received special commendation for introducing a health and wellbeing program at the firm.
"David impresses as a well-rounded contributor, committed both to putting in the effort to achieve client outcomes and supporting sustainable staff wellbeing amongst his colleagues," the judges said.
The other finalists in this category were Joel Davis from DLA Piper, Niaz Payne from Harmers Workplace Lawyers and Kit Yap from Norton Rose Fulbright.