Happy to help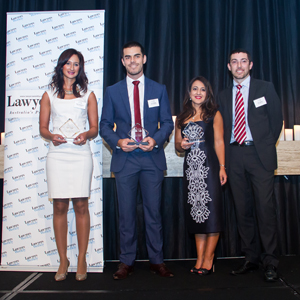 The Kordamentha Forensic Dispute Resolution winners at the Lawyers Weekly 30 Under 30 Awards really do like to solve problems.
The Kordamentha Forensic Dispute Resolution winners at the Lawyers Weekly 30 Under 30 Awards really do like to solve problems.
Webb Henderson's Tom Bridges laughs when asked by Lawyers Weekly what he likes about working in dispute resolution. The 29 year-old senior associate recalls the preview piece in Lawyers Weekly before the Awards that profiled Tom and the additional five finalists in this category, which carried the headline of 'Introducing the problem solvers'.
"What I like about disputes is that I see it as the ultimate way of problem solving," he said, chuckling as he reiterates that he has held this view long before the aforementioned Lawyers Weekly headline. "It is something that resonates with me, because you have to consider a number of elements, including acting to meet your client's commercial interests, dealing with your opponent's position and dealing with the legal and regulatory framework that you are operating in."
Tom is currently putting those skills to use as the lead lawyer acting for the ACCC in proceedings against Pfizer for the alleged misuse of market power.
Tom's move from Baker & McKenzie to join the fledgling practice of Webb Henderson just over 12 months ago also caught the judges' eye.
"A step to move out of the perceived safety of a major firm to a boutique start up, no matter what age, is to be applauded," they said. "Tom backing himself is fantastic. It is vital in young lawyers that they do so."
Another lawyer who has backed herself to succeed on multiple fronts is Maria Yiasemides.
The Corrs Chambers Westgarth lawyer combines her thriving practice with pro bono work and long-distance running, excelling in all three intense but ultimately rewarding disciplines.
She also echoes Tom's sentiments on the problem-solving aspects of dispute resolution being its biggest attraction.
"There is a case, you get the evidence, you do a bit of investigative work to figure out what the situation was, and while it is a bit of a battle, I really enjoy that," said Maria, who has particular expertise in acting on disputes arising out of insolvencies. "It keeps me on edge and keeps the intensity up and I love that."
Maria's role as a mentor to young lawyers at Corrs was also noted by the judges.
Rounding out this impressive group of winners was Brisbane's Nikki Mourginos.
The Holding Redlich lawyer works with three senior associates who have part-time work arrangements so as to balance work and family commitments. In her submission, Nikki highlighted the need for such flexible working options and policies to address the high rate of mental illness in the legal profession.
"Working hours is a big issue and there is unfortunately still the perception that the longer the time you spend in the office, the harder you are working," she said.
"I don't think that is the case whatsoever.. . and if people in senior positions still pander to that idea, we will never get anywhere," added Nikki, who believes the profession needs to encourage the idea of "working smarter, not longer".
Nikki was also congratulated by the judges for championing the use of technology to limit the reliance on documents in trials.
The KordaMentha Forensic Dispute Resolution category was one of the most hotly-contested of the 10 practice areas nominated at the Lawyers Weekly 30 Under 30 Awards.
The additional three finalists in this category were also praised by the judges and deserve to be commended. Congratulations should also be extended to Kyrren Konstantinidis from CBP Lawyers, Piper Alderman's Denee Theodorou and Stephen O'Grady from Minter Ellison's Brisbane office.