DLA seeks a shift in its office DNA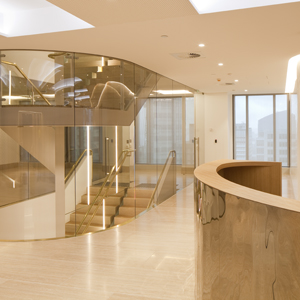 DLA Piper has overhauled its office design in a bid to encourage collaboration.
The global law firm has relocated its Sydney office to Martin Place as it looks to move from every lawyer having their own office to an open plan.
The firm, which was previously at Elizabeth Street, has moved to 1 Martin Place on a 10-year lease term, and will occupy four floors in the building owned by No.1 Martin Place Trust and the Charter Hall Office Trust.
Sydney office managing partner Onno Bakker said the new premises are slightly smaller, and the shift to an open plan format will facilitate a more "efficient use of space", with different practice groups working together more closely. 
"We're using the open spaces in a different manner, there's a lot more interaction between people from different parts of the firm, which I think will enable people to build stronger relationships," he said.
"I've worked overseas before and it's quite customary, particularly in the London office, that every lawyer shares an office with a more senior lawyer, or a more senior lawyer shares with a more junior lawyer so we can try and learn by simply being exposed to a more senior practitioner running his or her practice."
The office space was designed in consultation with Woods Bagot and was constructed by FDC. The three work floors are connected with a central spiral stairway, and include quiet and meeting rooms, offices and workstation hubs, and client space.
Location, location
DLA Piper's move was also highly motivated by a desire to be in the middle of the central business district in Sydney.
Additionally, the firm said its new office design was an attempt at "future proofing", with an update in virtual meeting and other audio visual technologies, and interconnectivity between the offices in Australia and worldwide.
Bakker said the firm has room to grow within the office space it has.
Commercial law firm Rigby Cooke Lawyers also moved in March, taking up two floors in Melbourne' Central Tower on Elizabeth Street.
A panel of partners told a Lawyers Weekly / Burrows Legal discussion last year that firms are trying to stop lawyers from working in isolation.