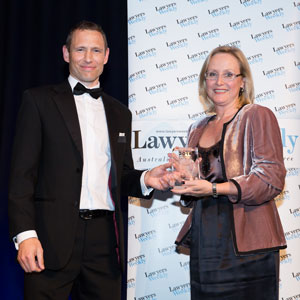 Norton Rose Fulbright's versatile partner, Jackie O'Brien, has won The Partner of the Year Award, proudly sponsored by Dolman.
Jackie told Lawyers Weekly she was delighted and surprised to hear that she had won the Award, and was sorry she could not attend the ceremony held in Sydney earlier this month (8 August).
"I've received so many congratulatory emails and calls from all over the world from some people who I haven't heard from for quite a long time. It's a reminder of the profile and scale of the Awards," she said.
Dolman manager Dominic Peacock handed the trophy to NRF partner Felicity Rourke (pictured) on the Awards night.
"On [Jackie's] behalf, as the head of our Sydney office, I am incredibly proud to accept this award," said Felicity.
"I'm sure if [Jackie] were here she would tell you how incredibly humbled she is, in a field of very worthy recipients, to take this award. We're incredibly proud of her at Norton Rose Fulbright. Congratulations Jackie."
The other finalists in this competitive category were: Simonetta Astolfi from Maddocks, Natalie Bannister from Hall & Wilcox, Susan Hilliard and Mark McNamara from King & Wood Mallesons and Karen Payne from Minter Ellison.
Jackie O'Brien is an IP litigation specialist with more than 25 years' experience in trade mark, patent and copyright law. She is part of NRF's global IP team, representing a number of pharmaceutical and healthcare companies.
"I arrived at [Norton Rose Fulbright] three years ago and when I look back … one of the really pleasing things is seeing the team that my colleagues and I have built ... flourishing. It's a great team; it's doing great work … in the context of what is now a global footprint."
In the past 12 months Jackie has led some of the largest patent litigations and class actions in the pharmaceutical sector currently being contested in Australia. One client described Jackie as "the consummate professional".
In addition to her litigation work, Jackie is the national pro bono partner and the head of the national corporate social responsibility committee, which oversees Fulbright's work in pro bono, charitable giving, volunteering, sustainability and reconciliation.
"It's very much a team effort and it generates really good contributions to different organisations. It's something we are very proud of.
"There's definitely a personal plus in [contributing]. You actually get a lot out of doing that sort of work. It gives you a sense of engagement. It gives you a sense of perspective on the world and the work that you do."
Jackie also plays a role in the mentoring and training of young lawyers and staff.
"I think there are a whole range of things that you have a responsibility to do. You should train and mentor people, you should be involved in knowledge management, you should be involved in giving back to the community," she said.
Dr Rosemary Howell, former secretary general of the Law Council of Australia and a visiting professorial fellow at the University of NSW, was the category judge.
She described Jackie as "a successful woman with strong business acumen and a leader in corporate social responsibility in her firm and in the broader community."
"Jackie demonstrates excellence in her specific area of practice and is considered to be a key figure within the firm. She has an ongoing commitment to IP law and development as well as a role as a volunteer mentor in various organisations."
Dolman manager Dominic Peacock is pictured with NRF partner Felicity Rourke.