Firms need to narrow their focus to win big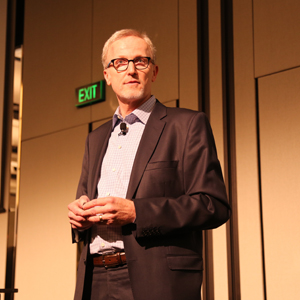 A leading business strategist has indicated that full-service law firms that try to be all things to all people are destined to fail.
Tim Williams (pictured) spoke at the Australian Legal Practice Management Association  (ALPMA) summit in Melbourne on Thursday (28 August).
He said that full-service firms are on notice.
"Standing for everything is exactly the same thing as standing for nothing," he said. "If you do everything for everybody that is not a strategy, that is the absence of a strategy."
Williams is the founder and director of Ignition, a US company that helps firms "create and capture value".
He noted that firms that view growth and expansion as a strategy are likely to do neither.
"Size is not a strategy," he said, elaborating that technology, among other things, has meant that the legal profession, along with architecture, advertising and accountancy, were failing to gain new clients on the notion of "bigness".
"Saying you have a wide range of experience or services is not a strategy," he said. "No client worth having ever hires a wide range of expertise or experience. They are hiring a specific type of expertise. That is all clients or prospective clients ever care about."
He urged law firms to adopt a narrow focus and to seek to be experts in a few core fields rather than offer a range of services.
"Who has the broader geographical market area, the neurosurgeon or the general practitioner?", he asked the audience of around 300 people at Melbourne's Crown Casino. "The neurosurgeon. You would get on a plane and fly to San Diego, California if you knew a really good neurosurgeon. You would travel that far. You would not do that for a family doctor, you would look within your neighbourhood."
Williams said an additional benefit of being a specialist is that you have fewer rivals to worry about.
"You make more money, you have a broader geographic market area and fewer competitors. What exactly is there not to like about being a specialist?"
Law should not be a blood sport
In discussing the components of a successful business strategy, Williams said that firms need to move from the red ocean to the blue ocean, the latter of which comprises "unchartered waters… where no one is competing".
"The red [ocean] is red due to the blood of your competitors," he said. "You are in there fighting for every bit of scrap and shred of business, going after the same customers in the same markets in the same way.
"The red ocean is populated by what I call 'pseudo strategies'. They aren't real strategies but masquerade as real strategies."
Williams said that in deciding on what a firm's positioning strategy should be, they need to be clear in understanding that having a narrow focus is not the same as being a small organisation.
"Narrow and small are two different concepts," he said. "I am here to say that not only does narrow mean more profitable, but increasingly in our times, narrow also means large.
"Many of the largest companies in the world are narrow and not what we would call diversified.
Williams listed a number of successful international companies that had achieved substantial business success by focussing on only a few core areas, such as Coca-Cola, which only offers beverage products, or Starbucks, which focusses on coffee.
Williams believes that such a narrow focus provides the best path for law firms seeking to expand.
"The specialisation of our business into these highly compelling areas of expertise that are growing so rapidly, they are eclipsing the generalist firms."