Women need to be kinder to each other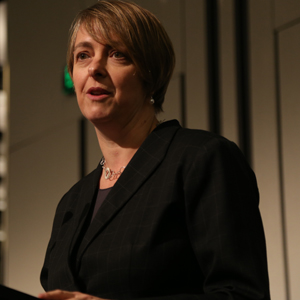 Nicola Roxon, Australia's first female Attorney-General, told the ALPMA Conference that professional females need to be less critical of other women.
Roxon (pictured) delivered the keynote address on the Friday morning of the ALPMA Conference last week (29 August).
She believes that some of the harshest critics of female colleagues in a white-collar environment come from women themselves.
"I feel very strongly about this…stop being harder on women around you if they don't make the same choices that you or your family make," said Roxon, who noted that this was a "biggy" for women. "This is really something that women cause damage to each other, in ways that are not necessary."
Roxon, who has juggled her political career and her recent move into legal academia with raising a young daughter, said there is "no magic, there is no right answer to what is the perfect work-life balance" and that open discussion of the work-life choices of women by women erodes morale.
"The sooner we get rid of the idea that there is that perfect balance, the kinder we will be to each other, and that has a professional flow on and stops that muttering of 'I don't know how she does it or I wouldn't do that' … which is actually really important."
Roxon addressed the Conference on the topic of Women as leaders and leading lawyers: Effective Leadership.
She said that good leaders recognise, and publicly praise, the good work of colleagues.
"Men in positions of power particularly even more consciously need to remember to do this, to acknowledge work achievements big and small, because it makes it actually much more enjoyable for your team," she said. "Quite apart from it building confidence, which builds competence, which means you can all do your job better."
Roxon said that while compliments are welcome, it is often men who receive them better, or are more willing to acknowledge how their role contributed to the success of a matter.
"The killer question for women is 'how did you respond when you received a compliment about your work?'", she asked.
How many of you can remember saying, 'oh, it was nothing', or 'I was just lucky' or 'oh, it was the team'?"
Roxon said that such statements are often spoken out of habit and, while they might be the polite thing to say, they encourage people to sideline women and to not value their specific contributions.
Roxon recalled how in her first year in Parliament, she often trotted out such glib responses when complimented, before she developed more considered responses.
"I realised again that was not actually what men were saying," she said. "So I taught myself to take that compliment and use it as a platform for something else.
"So I felt much more comfortable saying 'yes, that's great, can I come and talk to you about this bit of work you are doing that I am really interested in?'"
In an interview with Lawyers Weekly prior to the Conference, Roxon said that she would like to use her ALPMA address to help empower young women.
"Part of my message is to encourage women to be focused on the big things, to work out which issues really matter for them… [and] get [their] message through to the people who can make decisions," she said.
At a NSW Women Lawyers Association event attended by Lawyers Weekly in 2012, Jane Needham SC, now the president of the NSW Bar Association, said modesty was holding many women back from achieving high legal positions, and that in many instances, they had to prove their credentials to a greater degree when compared to men.
"Let's face it, no one is going to hand us anything on a plate," said Needham. "If the decades of history have taught us anything, it is that women have to work a lot harder than men to get where they are."
The elephant in the room…
During her speech Roxon did not mention the leadership tension between Kevin Rudd and Julia Gillard which tore apart the previous Labor government.
At the conclusion of her address, Lawyers Weekly asked Roxon, who was a staunch Gillard supporter during this period of destabilisation, why she believed Australia's first female prime minister made a better leader when compared to their male colleague.
"I made a decision in giving a speech nearly 12 months ago that I would set-out the range of things I thought were problems including the problems of other ministers in not explaining the issues we had with Kevin and his leadership. But I did say that I would do it once and once only… But I do very much think that Julia's leadership style was an inclusive one and if some of the messages I have here about supporting each other and being able to compliment people and being able to look and see things differently, she had a lot of those attributes and that made her a pleasure to work with," she said, drawing large applause from much of the audience at Melbourne's Crown Casino.
In delivering the John Button Memorial Lecture in October last year, Roxon described Rudd as having a "vicious tongue", and said that he was disorganised and lacked strategic nous.
"Removing Kevin was an act of political bastardry, for sure, but this act of political bastardry was made possible only because Kevin had been such a bastard himself to too many people already," she said at the Lecture.