Gilbert: Quit the BS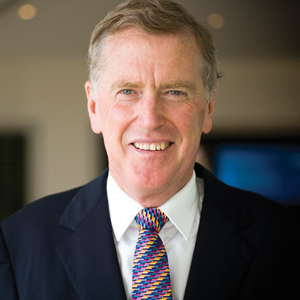 Gilbert + Tobin's Danny Gilbert told firm management to cut the bullshit when speaking to staff in a candid speech on leadership in a challenging legal climate.
Gilbert kicked off the Janders Dean Legal Knowledge, Innovation and Technology Conference yesterday (18 September) by urging partners and managers to be more honest with employees.
"People will react most strongly, they'll give their commitment, if [they] think someone's not bullshitting [them] and having an honest conversation with [them]," he said.
"We can be authentic about our failings as well as our successes; be authentic about what we know and what we don't know."
The forthright founder of G+T admitted that his firm had made a number of mistakes over the years, including its late entry into the resources space.
He also spoke openly about G+T's all-you-can-eat arrangement with Telstra. The multi-million dollar contract saw G+T perform all the work Telstra could throw at it for a set annual fee. Gilbert described the deal as an innovation, despite it being ditched by the telco.
"It was a risky thing to do," said Gilbert, adding that firm leaders must be willing to take risks and lose money.
They must also recognise the value of diversity, he continued.
While G+T has an impressively high percentage of female partners (35%), Gilbert claimed diversity is not just about numbers but "creating opportunities for diversity of thinking".
"It's diversity of thinking that matters, not diversity," he said.
"Women do bring diversity of thought to the way men typically think … the culture of the firm [should be] one where they can bring that diversity of thought to the table."
Gilbert stressed, however, that diversity should not be limited to gender. He raised ethnic diversity as another driver of innovation, even though G+T's record in this area was "not great".
Forced to innovate
Gilbert's keynote also reflected on recent changes to the legal landscape.
He claimed partners are feeling insecure in the face of mounting competition from new firms in the market, price pressures as clients drive down the cost of legal services and expanding in-house teams that have "sucked out of the legal profession some of the most interesting and challenging work".
These factors would result in the demise of a number of firms over the next decade, he said, and partners would also be subject to a kind of natural selection, with only the profitable surviving.
"Partners are having to be more focused, having to work harder, in the face a world of complete uncertainty."
"I say to my people, if you want an increase in your take home pay next year, you've got to be able to demonstrate that you are offering more, that you are doing better than you were doing last year."
He told partners to invest in innovation in the areas of knowledge management, marketing and technology, even though many view the investment as "money out of their pockets".
He also advised partners to empower their workforce by creating a culture of open communication.
"You've got to have a culture where people have the confidence that the can speak their minds, where they can talk about the elephant in the room and where they can bring to the table discussions about things that their bosses might not want talked about," he said.
"Leaders who don't produce that kind of culture are failures as leaders."
Lawyers Weekly will continue its coverage of the Janders Dean Legal Knowledge, Innovation and Technology Conference next week.