High maintenance? The problem is not with you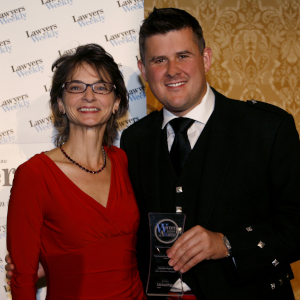 One of Australia's most respected senior law firm partners has said that lawyers should not be afraid to be a "squeaky wheel" or "high maintenance", and to speak out on inequality.
Annette Hughes, a member of the executive leadership team at Corrs Chambers Westgarth, took out the Female Partner Award, proudly sponsored by Michael Page Legal, at the Lawyers Weekly Women in Law Awards in Melbourne on 17 October.
In accepting the award, Annette said that members of the profession should not turn a blind eye to inequality.
"Don't be afraid to speak up," said Annette. "We have heard about the NARS report and we know there have been some things that have occurred from time to time in every workforce, including the legal workforce, that shouldn't be going on."
Annette, who joined Corrs in 2012 after heading Allens' Melbourne-based product liability group, said labels such as "squeaky wheel" and "high maintenance" – attached to lawyers who are not backward in calling for change – should not dissuade lawyers of either gender from looking out for each other.
The expression "squeaky wheel" is often applied to people who speak out on issues – and is often used in a pejorative sense.
"Use your voice, and for the rest of us that are not the victims of some of that [discrimination], open your eyes," she said. "Support those people that need a hand up and need to speak out but are afraid to."
Annette received the nod from the award category judge, senior Melbourne silk Jennifer Batrouney QC, a former president of Australian Women Lawyers.
Annette, a regulation, compliance and commercial litigation expert, is often sought by clients in crisis situations, including allegations of bribery and corruption.
She combines an extensive practice advising on such sensitive matters with a number of internal leadership roles at Corrs.
She is also a member of the executive leadership team, chair of the firm's diversity council and assistant partner-in-charge of the Melbourne office.
"As a mother and a partner on a flexible workplace arrangement, Annette is also a role model and mentor to many young women both inside and outside Corrs," said her partnership colleague, Sandy Mak, who won last year's Female Partner Award. "Annette is also one of the most generous people I have encountered. She always finds time to engage with people who require her assistance or are looking for her guidance."
The Female Partner Award received the most nominations for any category at the Women in Law Awards, with around 30 law firm partners making a nomination.
The other finalists were the Minter Ellison duo of Virginia Briggs and Karen Payne, Rani John from Gilbert + Tobin, Jackie O'Brien from Norton Rose Fulbright and Alice DeBoos from K&L Gates.
Do more than meet for coffee
In her acceptance speech, Annette also issued a call to arms for senior lawyers to ensure that young female talent is retained and given the best opportunity for advancement in the profession.
In particular, Annette said, informal discussions with junior lawyers on career advancement should not be left at the café or on the meeting room floor.
"Take the time to sponsor women into leadership and not just meet with them for a coffee, but to truly make a difference where you can," she said. "To clients, make their voice be heard, give some of the power to the women in the profession by ringing them the next time and giving them the work the next time."
Annette also acknowledged that "unconscious bias" is an inherent problem in the profession and crosses the gender divide.
"Let's overcome some of this unconscious bias that we know that we all have, including me and all of the women in this room, not just the men that are here. All of us have it, all of us exercise it and let's do our best to get rid of it."
Picture: Annette Hughes is all smiles after accepting the trophy from Michael Page Legal's John Maclean