Strategies and struggles behind law firm 'marriages'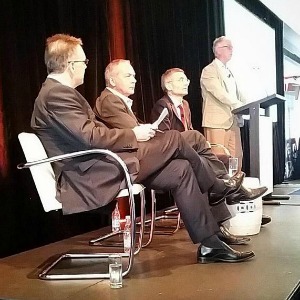 Law firm mergers, like marriages, call for many layers of cultural, structural and financial integration and can be challenging at the best of times.
Three law firm COOs shared their insights on the topic at the Australian Law Firm Leaders Forum, held at the Establishment Hotel in Sydney on 19 November in a session titled 'Strategic Considerations in Law Firm Mergers: Evaluating Opportunities for Long-term Growth'.
The panel (pictured) was moderated by Duncan Hart Consulting's director Duncan Hart and included COO of Gilbert + Tobin, Michael Boot; partner and COO at DLA Piper, Andrew Darwin; and COO at Norton Rose Fulbright Australia, Tim Shacklock.
A matter of perspective
Darwin, as a 'buyer', and Shacklock, as a 'seller', have had very different experiences with law firm mergers, although both belong to firms looking to grow by forging strategic international alliances.

DLA Piper's ever-expanding international empire is the result of an early decision to grow by following the firm's clients around the world as they globalised their brands.
"[DLA Piper's] fundamental modus operandi is to look for mergers in the belief that existing cash flow [and] existing infrastructure will enable us to move more quickly into markets, albeit with some compromises that come with mergers," said Darwin.
As part of this enterprise, Darwin swooped into Australia two years ago to complete the integration process following the merger of DLA Piper and DLA Phillips Fox.
Shacklock, on the other hand, originally worked at Deacons, the Australian firm that merged with NRF in 2010.
"Back in 2005, [Deacons] was looking for growth and we felt that growth for the firm was out there in Asia," he said. 
Deacons did not feel it had the capacity to internally generate the cash flow needed to invest in growth in Asia, so it looked to merge with an international suitor.
"We did a whole bunch of BD – oodles of spreadsheets. It didn't really count for much," said Shacklock. "You've got to do a bit of box ticking … but fundamentally it's about culture – we were getting married. That gives you a sense of the nature of the relationship."
He explained that giving up the firm's autonomy was challenging but that they got through it by dealing with cultural issues very early on.
"Things have changed considerably since then. We took in a South African partnership, a Canadian partnership; we also merged with a US firm, Fulbright; but again, cultural challenges and [finding] common objectives … are the most important aspects of the merger[s]."
"I do think that financial integration does come after cultural integration," he added.
Darwin took a different approach to merger priorities, saying, "I am personally a great believer in financial integration.
"Fundamentally, you want to align the interests of all your partners (and we all know how hard it is to align partners at the best of times). Trying to remove as many barriers as possible is really important and financial integration is one of those."
Best of both worlds
National firm G+T has taken a different path to growth by avoiding international mergers and teaming up with a Perth firm to enter the Western Australian market.
"My greatest personal fear is an international suitor coming along and trying to take the heart and soul out of the firm [by] stripping out a key piece that will give them a presence, a very solid presence, which they will probably be willing to pay a decent premium on to establish," said Boot.
He said the firm was primarily interested in growing nationally through "star lateral recruits".
While the firm has clients across the Middle East and Asia, its international business is largely done on a fly-in, fly-out basis. For Boot, this gives the firm "the best of both worlds" by avoiding the headache of international mergers.
For Darwin and Shacklock, however, cross-border mergers were actually easier than mergers in the same country.
"When you're dealing with offices in the same city or country, that's when it really gets difficult," said Darwin.
Shacklock agreed, saying that the hardest two NRF firms to integrate were the Canadian firms because of the friction between French-speaking and English-speaking partners.