CBP strikes $1 million pro bono deal with children's charity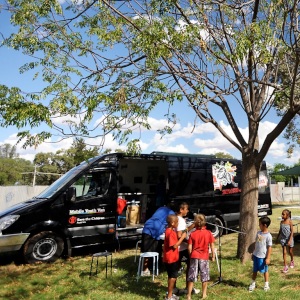 CBP Lawyers will provide pro bono services to the value of $1 million over three years to Save the Children Australia.
The partnership between the firm and the children's aid agency was launched today, February 6.
Through the CBP Foundation, the firm's new community practice, CBP Lawyers will do pro bono work for a range of youth services in Victoria, while also supporting Save the Children's fundraising and volunteering activities.
CBP will also look to expand Save the Children's Mobile Youth Van (M.Y.Van) program.
M.Y.Van (pictured) uses digital technology to provide outreach services to young people in places where they congregate. The van has been used as an alternative classroom during the day, and as an engagement service that gets young people off the streets and reduces anti-social behaviour at night.
CBP will directly fund M.Y.Van and plans to add legal services to the program.
"This is a unique opportunity to bring together our core skills, resources, people and energy, and combine that with Save the Children Australia's knowledge and expertise to achieve real and lasting change for vulnerable children right across Australia," said Daniel Creasey, director of corporate responsibility at CBP.
CBP launched the CBP Foundation, with initial seed funding of $500,000, in January. The foundation has three streams: pro bono legal services, volunteering and charitable contributions.
The firm has chosen to focus on the protection women's and children's rights; however, requests for assistance outside these areas will be considered.
All CBP staff have been offered two days of volunteering leave per year and receive credit for up to 50 pro bono hours per year. Lawyers can also receive a fee credit for major pro bono matters from a pool set at $380,000.