Super fund highlights support staff mental health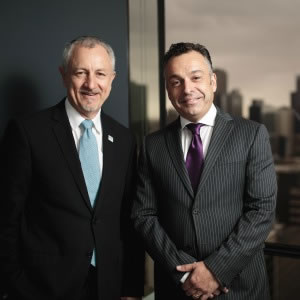 The largest superannuation fund for the legal industry, Legalsuper, has invested in mental illness initiatives targeted specifically at support staff.
The fund is partnering with mental health charity SANE Australia to deliver workplace education programs in the form of staff presentations and online resources such as videos and podcasts.
"[This] is a tangible way for the fund to reinforce its commitment to the legal profession," Legalsuper CEO Andrew Proebstl (pictured right with SANE CEO Jack Heath) told Lawyers Weekly.
Mr Proebstl believes financial wellbeing is intimately connected to health and wellbeing, and that Legalsuper can benefit its members by improving both.
Legalsuper holds assets of more than $2.5 billion on behalf of 42,000 members, most of whom work in support and administration roles in the legal industry.
Mr Proebstl said focusing on the mental health of support staff would benefit the majority of the fund's members, but would also complement rather than duplicate support programs already in place for lawyers.
"We think  we're able to bring something to [the support staff] segment that, at the moment,  no one is focusing on in a dedicated way."
While there is almost no research focusing on the mental health of legal support staff, many studies have revealed alarmingly high rates of mental illness among lawyers.
"It is logical that if a practitioner is experiencing depression and related issues, support staff who work closely with the practitioner will in some way feel the impact of that as well," Mr Proebstl said.
Improving the mental health of members also has business benefits for Legalsuper: preventing mental illness decreases the number of claims for disability or death, making premiums more competitive.
"Ultimately, [this] benefits all of our members. If we are able to prevent these instances that give rise to insurance claims, then our fund's claims profile improves," Mr Proebstl said .