The associate: At the heart of international disputes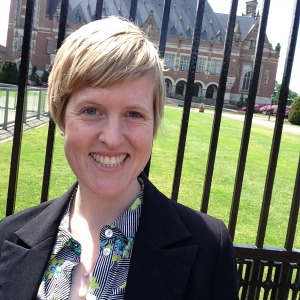 Australian international lawyer Jen Cavenagh has recently taken up the position of associate to Judge Greenwood at the International Court of Justice.
Four months into the role, Ms Cavenagh (pictured) talks to Alice Ramsay about her path to The Hague and what it's like being at the heart of the system resolving disputes between states.
How did your career in international law begin?
I came to The Hague in 2009 on a Yuill Scholarship as part of the ICJ Traineeship program.  I had always been interested in international law, but this is when it all really began.
Soon after returning to the Australian Attorney‑General's Department, I moved into the Office of International Law, where I stayed for four years. I worked in general international law, human rights. Then I joined the team working on the ICJ litigation involving Australia and East Timor, then onto working on the tobacco plain packaging investor-state arbitration. I was very happy there. I worked with such talented and supportive people. The quality of the work is very good and the range of issues amazing.
You're back in The Hague as associate to Judge Greenwood at the ICJ.  How did you get the role? What was your path back?
When I saw they were advertising at the court, I knew I liked the institution and its work. I knew I liked the people and I knew I liked The Hague.
It was also the right time for my partner. He was happy to come along and to experience life in Europe as well. It just kind of happened and I am really glad it did. I love it.
What does your role involve?
Mostly legal research on questions of international law that come up in cases, and providing support to the judge during hearings. We've just had a month of hearings in two cases – one where two cases have been joined: Construction of a Road in Costa Rica along the San Juan River (Nicaragua v Costa Rica) which was joined with Certain Activities carried out by Nicaragua in the Border Area (Costa Rica v Nicaragua); and the other concerning the Obligation to Negotiate Access to the Pacific Ocean (Bolivia v Chile).
It sounds like your first months have been full and interesting. What are the highlights so far?
The thing I find incredible about this job is to do international law research and then give it to one of the most pre-eminent and intelligent international lawyers in the world.
Judge Greenwood likes debating international law, which means I get to talk with him about how things work, how obligations work, how the system works. To have that insight into that mind is incredible. He is also such a good person; he is a model of the way you should treat people, both intellectually and professionally.
In this role, you're at the heart of the system of resolving disputes between states. You get to see how it works, and how it doesn't work sometimes. You also get to see the strategy used to resolve matters, both inside and outside of the court. I think that's really special.
What are the challenging aspects of the work you're doing?
The challenge for me is that sometimes I feel a long way from the ground. In the courts you're dealing with states, not people. The lives that are affected are a long way away and so it is far removed from everyday life.
In the past I've volunteered with community services such as the Welfare Rights and Legal Centre, and this is the other end of the world from that. I miss that sometimes.
For those interested in doing similar work, do you have insights or tips that might help them on their way?
Never compare yourself to others and to what they are doing, what they're achieving. There are a lot of very impressive people working in international law.  But everyone is different, everyone has his or her own path and there's not one way of working or achieving in this area. There are a lot of ways to get here and I think you see that particularly among Australians who work in The Hague.
Also, it doesn't hurt to do an internship. This is how people get to know you and how you make sure you like the work.
And do a Masters; I started working on mine as a bit of a hobby because I like the area, but it does also show that you care about international law.
Finally, don't discount working in government. Government has so much interesting international work.
What's next for Jen Cavenagh?
Ultimately, I wouldn't mind having a stint as a legal adviser in an international organisation, somewhere like UNESCO.  I would also be happy to return to government. Something that involves international law, that's dynamic and team-orientated. 
And I want to have a life as well as have a job that I love.
Alice Ramsay is an Australian writer and lawyer based in The Hague. This is the second article in a series of profiles of Australian lawyers working at The Hague.
The views expressed in this article are the personal views of the interviewee and do not necessarily reflect the views of the ICJ and/or the United Nations.