Heydon rules to stay on as royal commissioner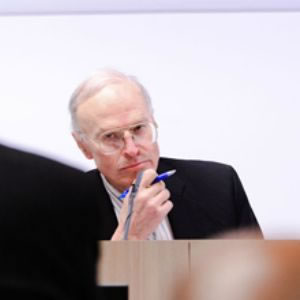 Former High Court judge Dyson Heydon has dismissed allegations of bias against himself and will keep his role as trade unions royal commissioner. 
In a 67-page document released after his announcement, commissioner Heydon outlined the reasoning behind his decision.
He determined that a "fair-minded lay observer" would not conclude that he was incapable of bringing an "impartial mind" to his work.
"The mere fact that a person agrees to deliver a speech at a particular forum does not rationally establish that the person is sympathetic to, or endorses the views of, the organiser of that forum," he argued.
He characterised the Sir Garfield Barwick address as "an opportunity for a legal, non-political address", arguing that such a speech would not betray an intention to advance the Liberal Party cause.
Even if speaking at the event were to create an impression that he was predisposed towards the Liberal Party, he argued there was "no connection" between that predisposition and "the actual issues for determination in the commission".
Finally, he suggested a "fair-minded lay observer" would take into account his experience as a barrister, academic and judge "working in an ethos where judges are expected to direct their entire professional career towards excluding the irrelevant, the immaterial and the prejudicial".
Referring to the multiple emails sent between event organisers and his staff, commissioner Heydon said he "had no computer" and "all email correspondence is sent and received by my personal assistant".
"It is notorious among the legal profession that I am incapable of sending or receiving emails. The consequence is that I read emails only after they have been printed out for me," he said.
In relation to allegations that emails were "doctored" before being released to trade union representatives, he said this arose out of a misunderstanding.
"The misunderstanding has now been cleared up by those who are familiar with emails – a class of which I am not a member," he said.
"The ACTU's repeated exaggerated submissions about the conclusions of the fair-minded lay observer cannot be dismissed as mere rhetorical flourishes. Rather they point to the fact, that like the CFMEU's and the AWU's observer, the ACTU's observer was not fair-minded."
Ten days ago, the commission heard arguments from the Australian Council of Trade Unions, the AWU and the CFMEU claiming the commissioner's agreement to speak at a Liberal Party fundraiser created the perception of bias.
Commissioner Heydon accepted an invitation to speak at the Sir Garfield Barwick address, then subsequently withdrew before the event.
During the hearing, national construction union silk John Agius suggested it "beggars the belief" of a fair-minded observer that commissioner Heydon could have been unaware of the Liberal Party's involvement.
The decision was originally expected last Tuesday, then postponed again upon request from the ACTU.
Note: this story has been updated to reflect the public release of Commissioner Heydon's reasons for his decision.