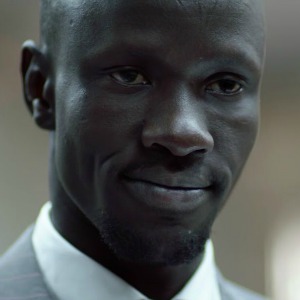 Sydney lawyer and former Sudanese child soldier Deng Thiak Adut shared his story in a powerful Australia Day lecture last week.
Speaking at the 20th annual Australia Day address at Sydney Conservatorium of Music on Thursday, Mr Adut urged all Australians not to take for granted the freedoms this country affords them.
"Freedom from fear is something that must be fought for. It can never be taken for granted," he said.
Mr Adut arrived in Sydney as a refugee in 1998 after making his way from Sudan to a UN compound in Kenya when he was 15.

He graduated from the Western Sydney University (WSU) and is now a practising defence lawyer. His incredible journey was recently the subject of a viral video by WSU.

In telling his story, Mr Adut stressed the importance of being conscious of how "very lucky" Australians are to live in an inclusive and peaceful society.
"To appreciate the value of freedom, one must first be denied it," he said.
At six years of age Mr Adut was removed from his home, a fishing village in Sudan called Malek, and conscripted into the army.
"As they took me away from my home and family […] I lost the right to be innocent. I lost the right to be a child," he said.
He witnessed horrific deaths of young boys as he was forced to march thousands of kilometres into Ethiopia in 1987.
Life as a child solider was psychological and physical torture, and many children committed suicide rather than face the trauma of war, Mr Adut said.
"Around 1993, I watched some boys, only 10 or 11 years old, as they picked up their AK-47s, put the gun to their heads, squeezed the trigger with their own fingers and blew out their brains," he said.
"For my fellow child soldiers, pulling the trigger was the quickest way to die, and for them the thought of dying was better than the reality of living.
"For them the freedom from fear was death. I was lucky. You are too."
Mr Adut said as a Sudanese boy he was considered "legally disabled by virtue of being black or having a dark skin complexion". It was "unthinkable" that he could grow up to be a lawyer.
"Australia opened the doors of its schools and universities," he continued.
"I would particularly like to thank WSU, where I received my law degree, and the University of Wollongong, where I obtained my master's degree in law – an experience which enabled me to realise my dream of becoming a courtroom advocate."
He added: "Australia educated me. How lucky I became. How lucky is any person who receives an education in a free land and goes on to use it in daily life."