IPP sparks partnership between firms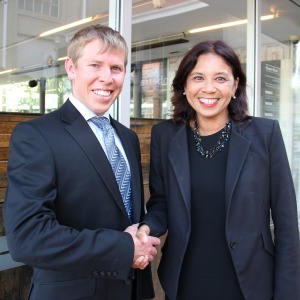 A partnership between NewLaw firm Proximity and Indigenous-owned firm Terri Janke and Company has allowed both firms to win work through the Commonwealth government's Indigenous Procurement Policy (IPP).
Proximity director Sean King and Terri Janke and Company director Terri Janke met last year shortly after the government released its Indigenous Procurement Policy.
"The Indigenous Procurement Policy is a Commonwealth government policy to use more Indigenous businesses across the board, including professional services such as legal," Mr King told Lawyers Weekly.
"There's a lot of business potential in it because Commonwealth agencies are really looking to how they can meet that policy; both the compliance aspect but also the intent of that which is to end up with more flourishing Indigenous-owned businesses."
Since then the two firms have formed a mutually beneficial partnership by combining Proximity's government experience with Terri Janke and Company's Indigenous ownership to win more work.
"As an Indigenous law firm, it's an opportunity for us to grow and get capacity without having the big risks involved by working with someone who's got credibility and got that experience and is willing to share as well," Ms Janke said.
For Proximity, Mr King said the benefit comes from having preference over other non-Indigenous law firms when competing for government work by engaging and working together with Terri Janke and Company.
"It's a real chance to have a more rounded and fuller offering based on working together," Mr King said.
While the partnership started with a focus on government work, the two firms now work together on a range of matters.
"On the employment law front increasingly large corporations and government are employing more and more Indigenous employees, but don't necessarily have the experience with an Indigenous workforce," Mr King said.
"So we're marrying Terri Janke and Company's skills in with our employment lawyers and the traditional employment law space to help with advising agencies and other corporations on managing an Indigenous workforce."
Mr King said agencies are really getting behind the policy and engaging with Indigenous-owned businesses, which is beneficial to the Indigenous population in general.
"They're really behind the intent of the policy, which is not just a compliance thing of meeting the requirements of having a certain number of contracts where there's an Indigenous supplier or subcontractor, but how do we make sure that that will lead to more employment of Indigenous professionals and giving them a real leg up," he said.
"That's where the greatest results will come, not only the business results for both of our firms, but the great social result as well."
Ms Janke added that it will help balance out the current under-representation of Indigenous people in the legal profession.
"This will be great for Indigenous lawyers providing advice to Indigenous business and to government. It's a really good opportunity, not just for them, but it's better for society."
Pictured: Sean King and Terri Janke