Lip service limiting flexible work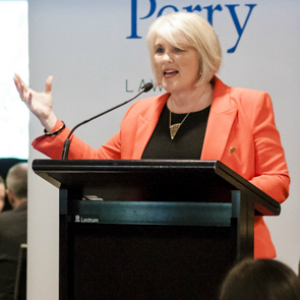 A positive work culture offers few gains for lawyers if these priorities are not communicated to clients, and to partners who are prepared to lead by example, the director of the Workplace Gender Equality Agency has said.
According to Libby Lyons (pictured), crafting a law firm culture is an important and generally well-meaning undertaking. While the process often leads to the implementation of good policies and initiatives, the Workplace Gender Equality Agency director believes a more pervasive reality is at play, which ultimately drives many talented lawyers to quit.
Speaking at a lunch talk hosted by the Women Lawyers Association of NSW last week, she offered an honest assessment of the natural resistance to flexible work arrangements that firms face.
"We live in an interconnected world and, increasingly, clients expect us to be on call at all hours for a reduced cost. In the law, these factors are worsened by the expectation that lawyers are also personally responsible for developing a wide client base," Ms Lyons said.
"I fear that many law firms and lawyers simply don't see utilising [flexible work] policies as compatible with building a client network and developing a practice."
Junior and mid-level lawyers, those who would benefit from flexible workplace arrangements the most, often feel that flexible work will hinder their ability to develop and manage their client base, Ms Lyons said. The result is that career-minded individuals rarely entertain the idea of flexible work arrangements.
She offered a comparison between the experience of women and men in seeking flexible work, as well as the difference in the way junior and senior lawyers perceive entitlement to alternative work arrangements.
"Many young lawyers who we've spoken to at the agency believe their ability to develop new clients and hang on to their current clients will disappear if they start working flexibly.
"These pressures only increase as lawyers move into their senior associate positions in their early 30s, which of course increases the stress level," Ms Lyons said.
"I recently spoke to a very successful young male associate, and although he liked his firm and he felt it had a good corporate culture, and he knew men at that firm that worked flexibly, he didn't feel as though it was an option available to him. When we asked why, he said his partner was 'old school' and probably would not support his request," she said.
Ms Lyons suggested that the reason why there are many miserable, work-obsessed lawyers boils down to several key factors.
The greatest challenge facing firms, as in all professional services industries, is overcoming social norms about what an effective employee looks like. Companies across the board must consider turning emphasis away from the hours an employee clocks to the outcomes they deliver, she said.
"While many law firms may have excellent policies when it comes to flexibility, they need to ensure that they are giving their employees real permission to use them. And that the work that they're giving them is commensurate with their skills and experience – not the number of days they're sitting at their desk."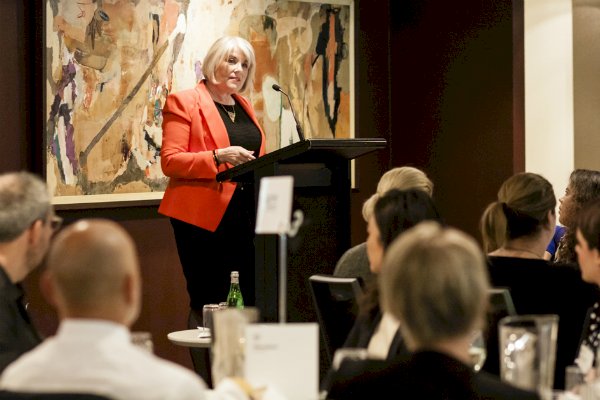 Libby Lyons speaking at the Women Lawyers Association of NSW corporate lunch series. The event was supported by Bartier Perry and the Law Society of NSW.