The firm that fought for a returned Anzac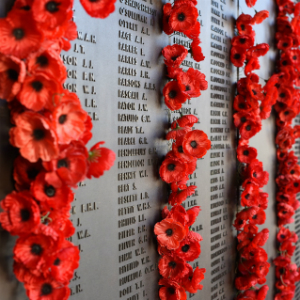 In 1916, a young soldier from South Australia faced an entirely different kind of battle when he returned from Gallipoli to fight the bureaucracy at home for his right to use the word 'Anzac'.
The Anzac legend was seeded in 1915 when soldiers of the third Australian Brigade made a fateful landing on the shores of Gallipoli, but it would be an enduring federal IP law which galvanised the sanctity of the word 'Anzac' for another 100 years.
When 25-year-old Clarence (Clarrie) Hart Campbell was medically discharged from the Australian Imperial Force, he returned home from Turkey with hopes of starting a new life.
Clarrie was an Australian Army driver and served in Gallipoli from 1914-16. Homeward-bound for South Australia, the enterprising young Anzac had plans to set up a toy manufacturer based in Adelaide.
In 1916 he applied to register two trade marks under the classification of toys and games of all kinds, hoping to establish his new business under the name 'Anzac toy manufactory'.
Legal historian Dr Catherine Bond (pictured), who has authored a book about the evolution of laws restricting the use of the word 'Anzac' in Australia, has been able to unearth records in the National Archives from the government's earliest days enforcing prohibition of the commercial use of Anzac.
Letters between the Attorney-General's Office and lawyers acting on behalf of Clarrie reveal a number of attempts to negotiate a solution that would allow the returned serviceman to run his toy business under the Anzac banner.
Through his lawyers, Clarrie asks the government for "special and sympathetic consideration", identifying himself as one of the first soldiers to storm Anzac Cove, and therefore "one of the makers of the [Anzac] name".
"The forwarded correspondence from [Clarrie] notes that he has changed all his branding, he's lodged all his trade mark applications, and unless he can pursue this matter, he states that he will be destitute because he's put all of his money into this new venture," Dr Bond said.
In a letter dated 7 June 1916, Clarrie tells the Attorney-General that he has invested all his money in the renaming. Should the trade mark applications be refused, he said he faced destitution.
"I am not able to follow up my former occupation owing to my disablement," Clarrie writes.
"I therefore appeal to you that my trade mark applications may be proceeded with and that I may be permitted to retain the word 'Anzac' in my trading name. Praying that my wish shall be granted."
Despite best efforts, correspondence between the AG's office and law firm Collison & Co reveal the returned soldier ultimately lost his battle with bureaucracy.
Dr Bond said that the historical records are a real credit to the firm's lawyers, who clearly went out of their way to assist a soldier in very difficult circumstances.
"Collison & Co continually liaised between Campbell and the Attorney-General's Department seeking advice, they came up with alternatives to put to the department.
"Looking at the documents, the legal representatives really did go above and beyond for this soldier," Dr Bond said.
"Unfortunately, though, Clarence H. Campbell was refused – like all other soldiers back then – and his trade marks were refused registration."   
The historical archives are filled with letters from returned soldiers and families who had lost loved ones in WWI, seeking permission to use the word Anzac for a range of reasons.
"One of the first things I came across when I started my project three years ago were these letters that family members had written to the Minister for Defence, to the Governor General, to the Prime Minister.
"The letters asked for permission to name their homes Anzac on the basis of a serving son or a loved one who had died overseas in the war and in all of the cases were denied. Those really stuck with me," Dr Bond said.
She added that when the regulations were first passed by Australia's young parliament in 1916, the Anzac legend was in its formative, however, powerful early stages.
"The Gallipoli landing had occurred in April 1915, first news of the landing got back to Australia early May 1915, and the community really seized on this word Anzac."
"The word really became synonymous with the idea that Australia had really proven itself and proven its worth on a global stage. From there, you've got the development of things like the Anzac spirit, meaning mateship and courage, and from there the Anzac legend grew over time," Dr Bond said.
While Australia's restrictive laws allow people to name their children and pets 'Anzac', there are strict rules around commercial use and the naming of homes and cars.
Dr Bond believes there are legitimate reasons for the rules but after more than a century, some of the use restrictions should be relaxed.
"My position is that those more private restrictions should be relaxed while maintaining the commercial restrictions.
"I think there's certainly not as great a chance today that those kind of more minor uses are going to be offensive to people or are going to affect how we are going to think about the term in any way," Dr Bond said.
"'Anzac' is one of a kind when it comes to this type of regulation, not only in Australia but around the world. This is a national term that's taken on significance both nationally and internationally, and I think law has a big part to play in that," she said.
Dr Catherine Bond's first book, Anzac: The Landing, The Legend, The Law, was published last year.