Bond students take out top prize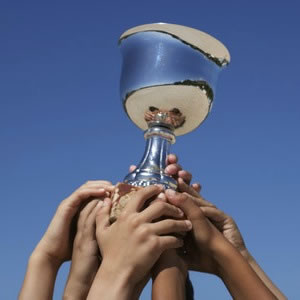 Two students from Bond University have taken out top honours at an international moot hosted in Hong Kong.
Lara Sveinsson and Marty Campbell have been crowned winners at the 15th Red Cross International Humanitarian Law (IHL) Moot, defeating more than 24 teams from the APAC region.
The pair faced university teams from a diverse range of countries such as Iran, New Zealand, Mongolia, China and Nepal, and argued their case in front of International Red Cross legal advisers, barristers and judges from across the globe.
The final round of the four-day competition was held in Hong Kong's High Court before a panel that consisted of judges from the Hong Kong Court of Final Appeal and a former judge of the International Court of Justice.
"Speaking in front of such a distinguished panel of international experts was definitely a nerve-wracking experience," said Ms Sveinsson.
"We really had to focus on just answering each question as it came and making sure we approached the competition as a great opportunity."
By taking out the top prize, Ms Sveinsson and Mr Campbell have been bestowed a joint scholarship valued at US$2,000, which they reportedly will use to travel to Geneva to undertake an IHL-related program at the International Committee of the Red Cross headquarters.
"Marty and I are both interested in careers in international law and humanitarian issues so the Moot was an incredible opportunity for us to get some insight into the life of legal professionals working in that field, who were all incredibly generous in sharing their time and experiences with us," Ms Sveinsson said.
In addition to the mooting rounds and finals, the IHL Moot program included a range of social events, networking opportunities and professional development sessions, as well as guest speakers, negotiation competitions and seminars, according to a statement from Bond University.
"We were so lucky to meet students from all over the world, teaming up with them for challenging negotiations and role plays reflecting everyday situations that Red Cross staff experience in the aftermath of armed conflict," said Mr Campbell.
"I was also inspired by the various regional legal advisers to the Red Cross who were present throughout the competition; many of whom had prosecuted cases at major hearings such as the International Criminal Tribunal for the former Yugoslavia."
Bond Law professor Jonathan Crowe coached Ms Sveinsson and Mr Campbell ahead of their victories, and said he was proud of the effort they put into the competition.
"International humanitarian law governs the conduct of armed conflicts, so it is a very topical area of international law that is highly relevant to major events happening around the world right now," Professor Crowe said.
"The IHL Moot provides an opportunity for law students from a wide range of different countries to reflect on the practice and reality of humanitarianism during wars and conflict, including the important role played by organisations like the Red Cross."