Future of Blakes partner uncertain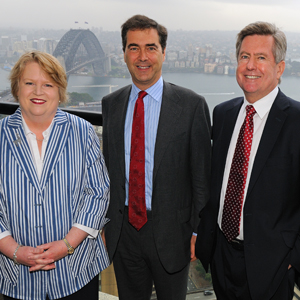 Blake Dawson partner Peter Stirling is yet to join his firm of choice, Mallesons Stephen Jaques, despite Mallesons announcing that he was due to join the firm last month.
In November last year, Mallesons announced it had poached Stirling, who was the head of Blakes' corporate team in Melbourne, and that the high-profile recruit was due to start in January.
Last week, when Mallesons announced its partnership additions for 2012, Stirling was listed as starting at the firm by the end of January.
However, senior sources within Blakes told Lawyers Weekly that Stirling is not due to retire from the partnership until late April, and will not be joining Mallesons until May.
"Peter will be with us until the end of April," Blake Dawson managing partner John Carrington (pictured, far right) told Lawyers Weekly. "My understanding is that Peter's period of notice expires around the end of April, and that he will be a partner at the firm until that time."
At the time of going to press, Stirling's profile and contact details were still listed on the Blakes website.
Calls to Stirling's office number at Blakes are greeted with a pre-recorded message advising that he is on leave, with a recommendation that callers should contact Nick Terry, the firm's Sydney-based corporate group practice leader, should they require further assistance.
Stirling did not return Lawyers Weekly's phone calls to his mobile number and, at the time of going to press, Mallesons responded that Stirling's start date was yet to be confirmed.
Stirling's departure from Blakes follows hot on the heels of competition and antitrust partner Daniel Preston ditching the firm, after more than 20 years, to join Freehills.
Carrington refuted any suggestion that the defection of high-profile partners such as Stirling and Preston is the result of discontent within the ranks of Blakes at the imminent merger with the UK firm Ashurst.
"At the end of last year there was a high level of enthusiasm amongst our staff with regard to what we were proposing," said Carrington, who spoke to Lawyers Weekly on his first day back in the managing partner's chair after five weeks of leave. "There is a general level of recognition that the world is changing, and our people are largely excited at the prospect of the start of that change."
Blakes is due to rebrand as Ashurst in March.
In announcing their partner appointments for 2012, Mallesons also poached Blakes environmental law partner Sally Audeyev, who will join the firm's M&A group in Perth.
The leading arbitration expert Alex Baykitch will also join Mallesons in the second quarter of 2012. Baykitch, the vice president of the Australian Centre for Commercial Arbitration, is currently with Holman Fenwick Willan. Prior to that, he was a partner with Blakes.
Mallesons also announced seven internal promotions to the partnership.