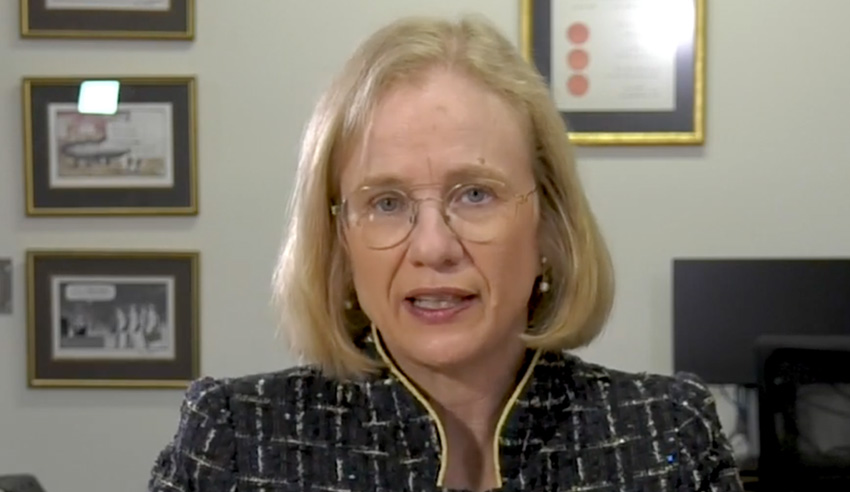 Queensland's chief health officer should be given the same powers and jurisdiction as a Supreme Court judge, and the state should establish a border restriction complaint conciliation process, according to one Gold Coast lawyer.
The call promoted by Gold Coast community issues lawyer Bruce Simmonds, follows reports that the beleaguered chief health officer, Dr Jeannette Young, is under police protection following death threats because of her rulings on closed border exemptions. 
The Premier has deferred to Dr Young on refusing border quarantine exemptions and tempers have flared amid media controversy after AFL players and movie stars were allowed into Queensland, but families were refused access to funerals or to be with dying relatives.
It's raised a possibility that some aggrieved people may pursue legal action against the state as a consequence of being denied a chance to attend a funeral or be with a dying relative because of border restrictions.
Mr Simmonds, litigation director with Gold Coast-based Queensland law firm Parker Simmonds Solicitors & Lawyers, says he would not be surprised if actions for mental anguish were pursued under the state's Personal Injuries Proceedings Act (PIPA).
"However I think it's time the state chief health officer be given the same powers or jurisdiction as a Supreme Court judge," Mr Simmonds said.
"This would blunt the criticism of her as an individual in carrying out her role and duties and if people are dissatisfied with that, it's a matter that they address to the state government not the person carrying out the great responsibility that her role requires."
Top doctors in Queensland have already called for critics of the state's chief health officer to "back off" over coronavirus border closures.
The Australian Medical Association's Queensland branch president, Chris Perry, said the group supported Dr Young's scientific decisions during the COVID-19 crisis.
"We're an evidence-based organisation and we follow what the chief health officer says," he told reporters on Sunday. "What the chief health officer in Queensland says goes, it's the law."
Mr Simmonds added that it's worrying if people won't listen to "our chief health officer."
"If the government only takes the CHO's decisions on advisement then we could end up with our politicians choosing what they want, perhaps influenced by how this will play out at the election rather than the health needs of Queenslanders," Mr Simmonds said.
"How would the LNP do anything differently? If we don't like the message then do we sack that person and appoint someone else? It's a Donald Trump-like scenario.
"The chief health officer should be the decision-maker in a health pandemic."
Mr Simmonds said mindful of any possible legal actions because of the border exemption refusals the state government could avoid a system of "vexatious litigation by setting up some form of complaint conciliation process."
"I know the legal profession would freely advise on how best to do this. We totally get that this pandemic is far from over and the stakes are high. COVID kills people, in a nasty and drawn-out way," he said.
"Our chief health officer is tasked with safeguarding us but she's fielding around 100 exemption requests everyday. As a public servant she does not deserve the attacks and death threats she has received for doing her job.
"You wouldn't threaten a Supreme Court judge for doing their job, so nor should our chief health officer cop such threats from cowardly trolls."