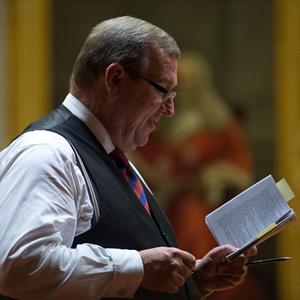 Esteemed members of Queensland's law community will swap arguing for acting next week to showcase the life and times of 16th century lawyer Thomas More in A Man for All Seasons.
Esteemed members of Queensland's law community will swap arguing for acting next week to showcase the life and times of 16th century lawyer Thomas More in A Man for All Seasons.
The Banco court in Brisbane will be bustling with wigs and gowns on 17 May as Queensland Law Society (QLS) puts on Robert Bolt's classic tale of 'a man of principle'.
QLS President Dr John de Groot will morph into a "sightly weasely insinuating type of man" in his role as the ambassador from Spain who is out to persuade Thomas More that he ought to approve King Henry VIII's divorce from his ageing wife Catherine.
"Even I had not discovered my thespian skills," said de Groot, who starred as the First Lord of the Admiralty, Sir Joseph Porter KCB, in Gilbert and Sullivan's H.M.S Pinafore in high school.
That performance saw de Groot sing "not very well, but with great gusto", a song he still remembers the lyrics to: "When I was a lad I served a term as office boy to an attorney's firm. I cleaned the windows and I swept the floor, and I polished up the handle of the big front door. I polished up that handle so carefully that now I am the Ruler of the Queen's Navy!"
Folklaw hopes de Groot wasn't forced polish too many handles when he was an articled clerk!
However, he did have something in common with his alter ego Sir Joseph Porter because he abandoned his dreams of stardom on the stage to become a lawyer.
There was then a "serious hiatus in my stage skills" before de Groot got to stretch his acting chops again with his role as the Spanish ambassador.
Acting up
"I am on a journey of discovery in that domain of my persona," he said, explaining the way his character, a typical diplomat, leans in but then quickly retreats if he senses the slightest resistance or querying of his statements.
The ambassador wouldn't get very far as a lawyer with that kind of attitude.
De Groot has so enjoyed his time in the world of theatre that he even said it could be the start of a whole new career for him.
"I must say I do have to start thinking about my future, after being president you're maybe a bit of a feather duster [so] I'm open for all suggestions," said de Groot.
Other celebrated members of the legal profession who have taken their performing from the court room to the stage include: the Hon Justice White, the Hon Justice Fryberg, the Hon Justice Daubney, Richard Douglas SC, Stephen Keim SC, Ralph Devlin SC and Norton Rose senior associate Stephen Mackie, as well as three professional actors.
The cast has had a few rehearsals and last week they played an "exciting game, with which only an experienced actor would be familiar," said de Groot.
The cast stood in a circle and were tasked with counting to 21, out loud, without speaking over each other. If two chose to speak a number at the same time they had to start again.
"We were a bit slow off the mark in this area but it didn't take us all night," de Groot said, but Folklaw can imagine it would be hard to get a work in edgeways with that many lawyers in the room.
De Groot admitted he may have some nerves on the night but Fryberg must be confident as he suggested expanding the "one-night only" performance to three shows to meet audience demand.
The performance is part of Law Week, which kicks off nationally on Monday 14 May. In Brisbane, a five kilometre Walk for Justice will be taking place under the leadership of the Chief Justice of Queensland, the Honourable Paul de Jersey. Criminal history tours "look like their going gangbusters again", said de Groot, and the inaugural Law Week Ball, which will finish the week, has also received great support.
"There are a lot of good things going on. We're trying to make it an event that engages the community and promotes the law, the legal system and the legal profession in Queensland," said de Groot.
Personally, Folklaw is looking forward to the performance of A Man for All Seasons – and a lawyer being portrayed as a man of principle for once!
de Groot is pictured below with the Hon Justice Margaret White. The Hon Justice Martin Daubney is pictured above.