French enlightenment writer Voltaire once remarked: "It is not enough to conquer; one must learn to seduce."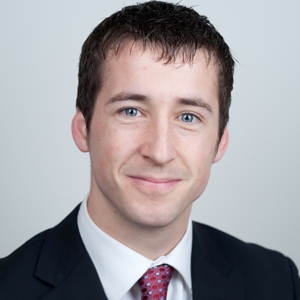 McCabe Terrill Lawyers' Joel Cook (pictured) managed to do both at The Westin Sydney this morning (18 May) to take first prize at this year's NSW Golden Gavel competition.
The Sydney solicitor took to the stage just after 8am as the fifth of 10 speakers all vying to represent NSW at the National Golden Gavel awards in Adelaide this September.
Cook, 25, proved charming, confident and borderline inappropriate as he discussed the topic of 'Small bars and fast cars – the cruisy road to partnership'.
Keeping the 500-strong crowd in hysterics from start to finish, Cook first tackled the misnomer of lawyers and their penchant for fast cars, remarking: "You'd be surprised how fast a Datsun 180b can go, in freefall, off a cliff, with a junior solicitor behind the wheel … praying 'Dear God, let death come quickly'."
The winner highlighted some of the golden rules lawyers must equip themselves with in order to make the road to partnership as "cruisy" as possible.
These included learning the lingo of the law. "If you can't dazzle them with brilliance, dazzle them with bullshit" was an integral part of Cook's sermon.
He also produced several placards that translated oft-used lawyer judicial speak into layman's terms, with a phrase like "if it pleases the court" translated into "I'm not pleased with you".
Cook - who counted "exploit your subordinates" as one of his primary rules - presented his own inimitable explanation of the word "efficiency", describing it as "the appearance of productivity; the avoidance of work".
However, what eventually swung the competition in his favour was his final golden rule: "Seduce your superiors … even if that is a famed member of the judiciary".
Luckily for Cook, the main judge in this year's Golden Gavel was The Honourable Justice Anna Katzmann.
Katzmann was impressed by Cook's charisma, handing him a winning bonus point for sheer audacity. "He gets the bonus point for remembering an important maxim in law: seduce the judge!" said Katzmann.
Race against time
The runner-up this morning was Somerville Legal's Candice Berger, who discussed the topic: 'Mad men and angry women – where have all the happy lawyers gone?'
"Did you know that if you type the words "happy" and "lawyer" into Google at the same time," said Berger, "it comes up with a barrage of those 'did you mean?' auto-corrections, asking you things like: 'did you mean: why are lawyers so depressed?' and 'did you mean: why are lawyers so expensive?'"
Berger brought a degree of toilet humour to proceedings as she lamented the fact lawyers are forced to departmentalise their entire lives into six-minute units.
"Where else in life would you have to switch off your timer to go to the toilet?" she said. "You get to the toilet and think to yourself: 'Man, I'm actually wasting time and I'm going to have to go back to my desk and tally up my billable units'.
"Going to the toilet can sometimes be one unit, at other times, two units… it kind of gives new meaning to the expression "going for a number one or two".
Meanwhile, Clayton Utz lawyer Joshua Knuckey received cheers (and jeers) from the gallery as he took to the stage in a Wests Tigers jersey and proceeded to take a large gulp from a VB stubby.
Despite Katzmann later admitting her affiliation with the Tigers, it wasn't enough for Knuckey to force his way into the top two.
In a dry, almost uninterested, delivery, Hamish White from Henry Davis York managed to incorporate The Lord of the Flies, litigation and the Ultimate Fighting Championship into his speech.
Michael Connor from DibbsBarker was voted the 2012 People's Choice winner, after endearing himself to the females in the audience by remarking: "You don't need pick-up lines when you're this good-looking, drive a BMW and have a steady stream of ambitious summer clerks to choose from."
Amy Fitzpatrick from Gild Insurance Litigation fired back for the fairer sex in her delivery, retorting: "Whilst most female solicitors in this room would prefer their daily exercise fix in the bedroom, sadly, the quality of our male colleagues is less than inspiring."