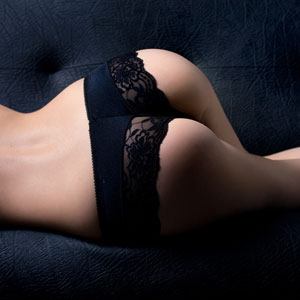 A billboard for an all-female law firm unleashed a storm of publicity in Chicago with the slogan: "Life's short. Get a divorce."
The advertisement for Fetman, Garland & Associates, a firm specialising in divorce cases, featured the torso of a busty woman wearing lingerie and the bare chest of a muscular male.
Turns out the scantily-clad female body was that of the firm's partner, Corri Fetman, and the male body was her personal trainer, the Chicago Sun-Times reported.
Fetman made an appearance on ABC News to respond to criticisms that the firm was trivialising divorce. She said: "Law firm advertising is boring ... its lawyers in libraries with a suit on and the law books behind them.
"So we wanted to try something different."
If you don't know Fetman by name, you might know her by sight. She is well-known for being the lawyer who posed for Playboy in February 2008.
Following her pictorial debut, Fetman wrote a regular column called The Lawyer of Love for Playboy.com. She made headlines again in 2009 when she filed a sexual harassment lawsuit against the publisher.
Fetman alleged Thomas Hagopian, an executive for the digital branch of Playboy Enterprises, bombarded her with sexually explicit email messages and phone calls, groped her and took away her column when she repeatedly rebuffed his advances.
Folklaw visited the Playboy.com website (purely for research purposes of course) but, unfortunately, access to the site was blocked on the office computer because it "contains pornography".
Thankfully, Chicago Now is publishing Fetman's reinvented Love Lawyer column. To read some of her pearls of legal wisdom, visit www.chicagonow.com/love-lawyer
The latest on Fetman is that she's trying to get out a new billboard, featuring a woman in a dominatrix outfit, with the tagline: "Take control. Get a divorce."
Folklaw will keep you updated on the antics of this risqué lawyer. Judging by Fetman's track record, it won't be long before she makes headlines again.