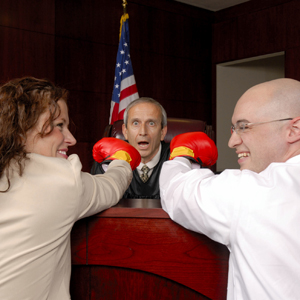 In what could be a case of parenting paranoia, a husband and wife have been charged after trying to take schoolyard justice into their own hands.
Kent and Jill Easter, both 38-year-old attorneys, could face up to three years in state prison for allegedly planting drugs in the car of an unwary school-parent volunteer who they claimed was not adequately supervising their son.
The pair have been charged with conspiracy to procure the false imprisonment and arrest of primary school volunteer Kelli Peters and conspiracy to falsely report a crime, the Los Angeles Times reported.
Folklaw is wondering how long they spent planning their alleged crime, given police were quickly able to determine the drugs did not belong to Peters and that Kent Easter falsely reported he saw her drive "erratically" to school before hiding drugs in the back of her car.
Kent now stands accused of planting a bag of Vicodin, Percocet and marijuana, and a used marijuana pipe, behind the front seat of Peters' unlocked car the night before police searched it.
Prosecutors claimed the Easters were in constant contact through text messaging and calls as Kent drove to Peters' home to plant the drugs at 12:30am on February 16, 2011.
Kent has been an active member of the State Bar of California for almost 15 years, while his wife's license has expired since she was admitted in 1998.
Folklaw would like to see the law graduates talk their way out of this one.
They are scheduled to appear in the Central Justice Centre in Santa Ana on July 17 and have been released on $20,000 bail.