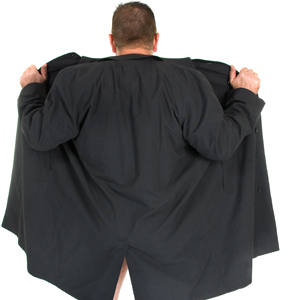 A California lawyer who was 'flying low' on a flight has been convicted on two counts of lewd conduct.
Leonard Julius Sawyer, 33, from Houston, Texas, exposed his erect genitals to the woman sitting next to him and a flight attendant on a plane journey from Los Angeles to Houston in February 2011.
Folklaw is already a nervous flier, folks, and this story would not encourage us to take to the air...
Sawyer reportedly started the flight by repeatedly asking the unfortunate female in the seat next to him intimate questions. When the woman subsequently tried to move seats, the FBI website reports, Sawyer turned towards her with his genitals exposed and asked if she wanted to climb over him.
And we thought getting stuck sitting beside a talker was bad...
At some stage later in the flight Sawyer went to the bathroom and gave a flight attendant what she described as a strange look. On exiting the bathroom he opened his jacked to reveal his erect genitals to the attendant.
When the flight attendant told him he was being inappropriate (to put it mildly), Sawyer reportedly responded by saying: "Can't a guy have his fly undone?"
Sawyer was convicted on two counts of lewd conduct and could face 90 days in prison plus a $5,000 fine for each count, according to the FBI website.
This isn't the first time the lusty lawyer has found himself in trouble for behaving inappropriately.
The California Bar reported that Sawyer was suspended in 2011 after he pleaded no contest to two misdemeanour battery counts in 2010 for touching the buttocks of a female deputy district attorney and a court clerk.
Folklaw reckons they should send this lawyer to a prison that has only cold showers...