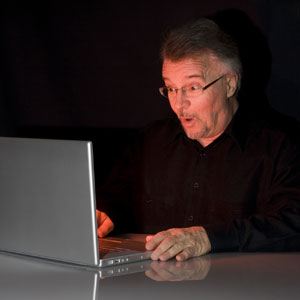 A 69-year-old Illinois judge is in hot water for accessing hot websites on the office computer.
A complaint by the State of Illinois Judicial Inquiry Board has alleged that Will County Judge Joseph C. Polito used his courthouse computer to access pornography, violating the Code of Judicial Conduct and bringing disrepute to his office, reported the Chicago Sun-Times.
Folklaw admits work can sometimes be boring. Hell, everyone does a little net surfing now and then.
However, rather than check his Facebook page, browse Lawyers Weekly or do some internet shopping (Folklaw's favourite things to do on a slow news day), Polito attempted to visit some rather unsubtly-titled websites, including chubbyparade.com, hugeheavybreasts.com and bigbras-club.com.
Of course, there were numerous other websites with names Lawyers Weekly can't print.
Folklaw didn't want to pass judgement when it first learned of Polito's hobby. We've all had the occasional 'I clicked on an ad and now there's a naked lady on my screen' situation.
But what astounds Folklaw is that this raunchy judge found a way to bypass the county's web filter by clicking on numerous search results until he could access a pornographic site. In fact, it was reported that there were 243 unsuccessful attempts to access adult websites from his computer over a six-month period, starting in 2010.
Now that's determination!
The paper dubbed him 'Judge Lewdy' and he was transferred the next day from divorce court to a courtroom that hears building code enforcement and mental health cases.
Will County Judge Richard C. Schoenstedt said that, in divorce court, Polito would have had to handle "court calls that by their nature are adversarial and where the issue of gender is often central," the Sun-Times reported.
Folklaw wonders what part of the judge's routine is so arousing; and why on earth he couldn't wait until he got home to bang the old gavel.
In any case, Folklaw is relieved it never had to shake this judge's hand ....