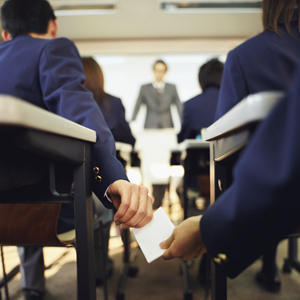 A lawyer in America has been suspended from practice after his ploy to sway a judge by insulting Canadians backfired.
Folklaw was blown away to hear Thomas McGrath's claim that he was simply "blowing off steam" when he scrawled this grammatically-appalling note to a judge: "Your decision is going to effect [sic] American's [sic] -- How [sic] are you going to trust & believe -- a [sic] alien or a US citizen."
McGrath employed the cheap tactic in a desperate attempt to defend his wife's business, the Chiropractic Wellness Center (CWC), based in Newcastle, Washington, against a former employee who quit to set-up her own shop.
Annoyed at former employee and Canadian citizen Katherine Ellison's departure, the CWC alleged unfair competition and "breach of the duty of loyalty", the Seattle Weekly reported. Those claims were thrown out in 2007, but Ellison hit back with a counter-claim that eventually paid her a $500,000 award.
Ellison claimed CWC was recruiting Canadians, changing their terms of employment and warning that their working visa and impending licensing would be jeopardised if they did not accept the terms.
Clearly CWC's 'wellness' didn't extend to how they treated their employees. Folklaw can only hope Rinehart has no such tricks in mind for any skilled Kiwi workers landing in the Pilbara. 
As litigation turned sour, with recurring battles over Ellison's discovery requests, McGrath scrawled another note, in case the spirit of his first was unclear, to flesh out his argument: "How many jobs do we give to aliens like Dr. Ellison: She was schooled here in the US and refuses to become a US citizen. She needs to go back to Canada. In that regard, I am asking the Court to freeze all of her assets pending the outcome of this case."
Apparently, despite CWC's alleged practice of recruiting 'alien' Canadians, McGrath (who is also the centre's corporate secretary) has some heated emotions about the Canucks.
Astonishingly, the state Supreme Court judge did not follow McGrath's secretive counsel. Instead, he filed a complaint with the Washington State Bar Association.
When the association deemed the notes inappropriate, McGrath challenged, saying he was "just blowing off steam".
The association was unsympathetic. It emphasised the USA's immigrant history, recounted Ellison's shock at seeing the letters and McGrath's repeated failure to comply with basic discovery processes during the trial in ordering his 18-month suspension.

According to Seattle Weekly, this is not the first time McGrath has "blown off steam" and ended up being suspended from practice. He did worse than passing a derogatory note in a court of law in the 1980s, when he was convicted of assault with a deadly weapon. Following that conviction, he was reinstated as a lawyer in 1993.