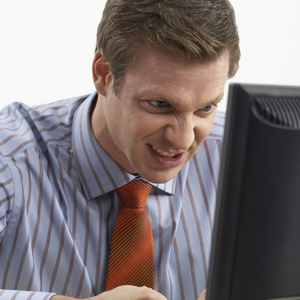 Hell hath no fury like a prosecutor who has lost his job...
That is how the saying goes, right?
Anyway, Folklaw stumbled across a recent tale of an ex-prosecutor who it seems you definitely wouldn't want to meet in court (or anywhere else for that matter).
Cliff Hicks was arrested after he posted a series of messages on his Facebook page that allegedly threatened his former employer, attorney Greg Underwood of Norfolk Commonwealth in Virginia, US.
Seriously people, how many times does Folklaw have to point this out? Facebook is on the INTERNET, other people can see what you post there!
According to the Virginian-Pilot, Hicks, 41, who worked in the Norfolk Commonwealth Attorney's office from January 2001 to April 2010, was charged with one count of posting a written threat to kill or do bodily injury to another on his personal account.
He was released on a bond of $US20,000.
Underwood indicated to police that he took the threats seriously. The threats included Hicks stating he was "tired of being intimidated" and also him saying "I will kick your" rear end, as The Virginian-Pilot puts it (bless Americans and their inability to even use the word ass).
Hicks' mother put the blame for the incident firmly at the feet of one thing – alcohol. She said that when her son has been drinking he doesn't remember anything. (Folklaw does have some empathy with that part of the story folks – we've all had those Friday night drinks that have gone just a little too far...)
Hicks, who hasn't had steady work since leaving his job in the attorney's office, is due to appear in court again next week.
Folklaw will keep you up to date on how this saga unfolds but, until then, remember, if you've been drinking, stay away from the keyboard!