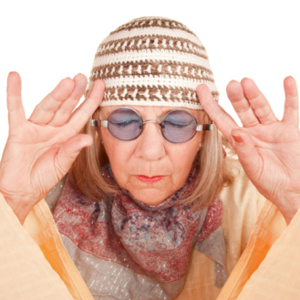 We all have those moments when we think we want to just pack it in and go pursue another career...
In Folklaw's pre-deadline daydreams these new 'careers' are generally along the lines of 'travel writer specialising in luxurious getaways', 'Tim Tam flavour creator' or 'mattress-comfort tester'.
Professional pick-up artist and life coach doesn't normally make the cut...
However, that is exactly the profession that Harvard Law School graduate Erika Frick, aka Erica Awakening, chucked in her promising law career to pursue.
Frick, who after leaving Harvard worked for the US Department of Justice and the US attorney's office in California, said that a near-death experience some years ago inspired her to get off the corporate treadmill and try a more 'holistic' approach to life.
This new approach involved become a life and success coach and setting up her own website, on which she describes herself as the High Priestess of Miracles (Folklaw likes to think of itself as the High Priestess of Pithy Puns...).
Frick claims that through her 'unique' Holistic Belief Reprograming system you can improve pretty much every area of your life: you can make more money; improve your sex life; lose weight and meet your soulmate.
And what sort of training does this amazing, life-transforming system put you through? Err, not a lot really. The programs take the form of online video tutorials that you purchase on the website and seem to just involve Frick talking at you for three minutes at a time...
And, "to encourage full commitment" all products you purchase from the site are non-refundable.
Hmm, Folklaw would be expecting a bit more bang for its buck; if I want to see people talking rubbish online I can just watch YouTube for free...
Frick also refers to 'tapping' as an important component of her program. Folklaw isn't quite sure what this refers to but we reckon anyone who pays through the nose to watch some badly-produced online videos must be tapped in the head.
Folklaw thinks it will just stick to the 'mattress-comfort tester' escape-plan daydream...