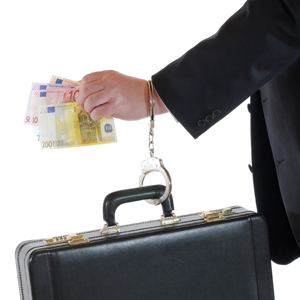 A US lawyer has been indicted for extorting $1 million from clients in fake cases.
Richard J. Breibart, a high-profile criminal and civil litigation lawyer from Lexington, South Carolina, was last week charged with mail fraud, extortion and illegally wiring money to his accounts.
According to a 15-page, 10-count federal indictment, in recent years Breibart began telling clients about imaginary threats to trick them into giving him ridiculous amounts of money in return for his help.
In one phony case, Breibart told a man he owed the Internal Revenue Service (IRS) $US368,000 but that he needn't fear because if he paid the amount in full, along with a $50,000 'attorney's fee', Breibart would deal with the matter.
Clearly a very trusting fellow, perhaps with fewer brain cells than most, the man transferred the money despite the non-existent IRS investigation.
Perhaps Breibart's gullible clients simply wanted an invite to one of his lavish Christmas parties, which he was known for throwing for hundreds of people.
In another episode of scarce brain cells, Breibart asked a couple to send him $218,000 because their son, whom he had once represented on criminal charges, could, he claimed, be targeted by the FBI. 
Thousands of dollars later Breibart was able to "keep the FBI at bay". Unsurprising given there had never been any enquiry against the boy, according to the indictment.
In an overt attempt to conceal his foolish behaviour, Breibart shut down his office and website without telling his staff of lawyers, paralegals and secretaries why, reports ABC News. He used email to tell them their pay wouldn't be coming in.
On 19 September, Breibart was arrested and charged, having allegedly destroyed at least three people's savings, investment and retirement accounts. He could have a long time behind bars to think about that too; each count of the 10-count indictment carries up to a 20-year prison sentence.
Breibart has pleaded not guilty to the charges. Folklaw thinks he has already been judged in the court of public opinion though...
On the website of South Carolina's The State, the story drew some angry comments, including this one: "Nothing but some iron bars and a law degree separates these low-life lawyers from the criminals they prosecute!"
Ouch. Folklaw wonders when will lawyers stop giving lawyers a bad name?