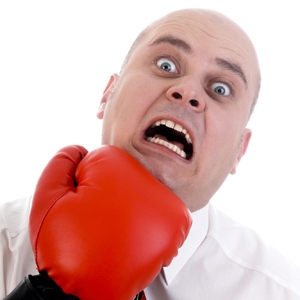 A South Carolina courtroom last week played host to a man who must be a contender for America's dumbest criminal.
Some folks just can't help themselves.
According to reports in the US, Lamarcus Williamson, 30, had just pleaded guilty and been sentenced to 15 years on robbery charges by Judge Michael Nettles when he sucker-punched his lawyer in the face.
Williamson, who had his hands cuffed at the time, raised his arms up and clocked public defender Dan Hall square in the jaw.
The lawyer crashed to the ground while the court police officer grabbed Williamson and immediately escorted him from the court room. And, of course, it was all caught on the York County Court's security camera.
Hall suffered a busted lip and a bruise, but wasn't seriously injured. But to add insult to not-so-serious injury the incident happened on his 58th birthday.
The undignified incident took place in front of court officials, prosecutors, defence lawyers, security officers and the judge.
Following the incident, Hall said that he had a "busted lip" and he had taken a "pretty good shot" but the damage could have been worse.
"An inch higher I would have had a broken nose, an inch lower my front teeth would have been knocked out," he said.
Hall added that the whole thing "only took two or three seconds" and that in his more than 25 years working in courtrooms he had never seen a defendant swing on a court official.
"Clearly this is the kind of thing that cannot be tolerated in a courtroom," Hall added.
Only in a courtroom? Does that mean Hall is happy to be sucker-punched once it is outside the halls of justice?
Williamson will now spend an additional six months in prison for contempt of court.
"It is clear your conduct is not governed by rational thought," Judge Nettles told Williamson in court.
Folklaw feels the stinging criticism from Nettles was entirely justified on this occasion, while wondering whether this incident could spell an end to a beautiful friendship between lawyer and client.