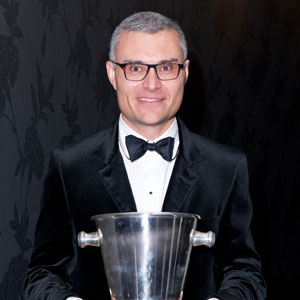 One of the speakers at last night's (11 October) Tristan Jepson Memorial Foundation lecture has form as an award-winning champagne taster.
A few weeks before last night's lecture, one of the four panellists, Matthew Stutsel (pictured), a former partner at Freehills and now the national head of state taxation at KPMG, took out the prestigious amateur prize at the Vin de Champagne Awards.
Now, this is not as fun as it sounds, wine lovers. Far from being able to rock up to some chateau somewhere where champers and oysters are served to you by various suave and nubile young French wait staff, Stutsel had to stay sober to come away with the prize.
To win the Award ahead of the other five finalists, Stutsel had to pen a series of six essays, draw up a six-course meal with matching wines, put on a blindfold to identify certain drops and then sit through a panel interview and undertake an oral exam about champagne.
"At the end I just wanted a drink," said Stutsel.
Impressively, such a tortuous process hasn't put Stutsel off the famous French drink.
"I went for a champagne closely followed by a coffee to freshen me up."
Stutsel's six-course menu has Folklaw salivating.
Included in the six courses was a lemon ceviche of kingfish Pol Roger served with a Larmandier Bernier Blanc de Blancs Premier Cru Nature Terre de Vertus (champagne), and duck breast with ginger on spelt risotto served with a 1999 Cuvée  Sir Winston Churchill (champagne).
"There are some very strict rules about what is and isn't champagne," said Stutsel. "It is a great one for lawyers and is a great lawyer's drink."
In addition to the kudos Stutsel receives as the winner of the Award, he gets to go on a two-week educational tour to the Champagne district in France, where he will be awarded his medal from the Le Comité Champagne trade organisation established by statute to administer the common interests of everyone within the champagne industry.
Despite his prowess as a champagne taster, Stutsel told Folklaw he has no intention of chucking in the law and making champagne swilling his full-time gig.
"My goal is to get everyone in Australia to drink one glass of champagne more this year than they drank last year, and I am willing to share a glass with them," he said.
Folklaw applauds such selflessness Matt and is looking forward to dropping into KPMG HQ in the near future to take you up on your offer.