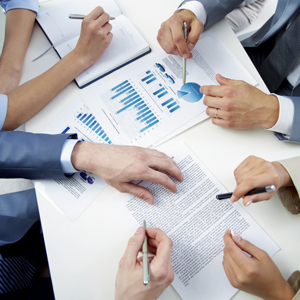 Government work has become increasingly attractive for law firms, but in order to win it you have to first write a successful tender, writes Linda Julian.
Government work has become increasingly attractive for law firms, but in order to win it you have to first write a successful tender, writes Linda Julian.
Global financial dramas, continuing economic uncertainty, huge pressures on government budgets and tough trading conditions for many businesses create plenty of problems for law firms, but also create a few seriously large opportunities.
Direct impacts on government procurement are clearly discernible. Government continues to be a big player in the economy and a highly-attractive client for law firms. Commonwealth, state and local governments are still spending.
While all levels of government are tightening their belts, in several areas they're purchasing more legal services than before, but those purchase decisions are not being made in the same old way.
High demand
The public sector chooses its suppliers (and these days law firms are very definitely viewed as suppliers) through formal procurement processes. These include increasingly rigorous and demanding tenders plus "continuous feedback loops", where law firm performance is evaluated matter-by-matter and month-by-month to inform future purchasing decisions.
In recent months, public sector tenders for legal services have stepped up to a new level of sophistication, complexity, precision and rigour.
Government was always an attractive client: interesting matters, zero credit risk and great streams of work.
Historically, for a host reasons, few law firms have actively pursued public sector clients. But now, with changes afoot across the country, government legal work is good business for law firms.
Informed purchasing is a central theme running through legal provider selection. This is timely recognition of the commercial clout and market power governments can exercise to buy the right services from best-fit firms at favourable prices and then derive maximum value and benefit.
It was always a good idea to be good at tendering. Now, it's essential for law firms that want to transact with the public sector. We have observed a considerable overall increase in public sector tenders for expert professional services, most especially legal services.
Public sector purchasing in both Australia and New Zealand is now highly centralised and becoming tightly focused and much more demanding.
There are many tales of recent tenders and the new competitive hoops through which law firms must jump. Stories of bidding auctions, tough demands for current evidence of capability, amazingly detailed reference checking and long and complex hypotheticals abound.
Capable professional service firms that master the science and art of tendering are rewarded with good business on terms ranging from fair to highly attractive.
Playing by the rules
Compliance is vital. Show you are the right choice to work with the client by playing within their rules. Expect almost no latitude. You may find the rules bewildering, or sometimes impossible to fathom, and almost certainly you wouldn't do it that way. However, there is generally solid rationale for new procurement models. Evaluators may get quite a few shocks along the way, though, with what assessments now entail.
Procurement is in charge of these processes, so don't depend on your old allies to ease your way through, nor can you call in favours to overlook or forgive your failure to play within the rigid (and sometimes complex and confusing) rules of the process.
Friends in high places won't get you through these competitions either ­— objectivity, transparency and evidence-based purchasing decisions are the new norm. Your reputation and brand, though never unimportant, have much less influence on ultimate outcomes.
Time pressure
Tender timeframes have contracted; the public sector is working to tight timelines and that flows through to shortened, rapid-fire calls for tenders, which is another reason to be bid-ready. Even massive, complex bid processes are typically open for only four to five weeks. To succeed, you need to be resourced and organised ahead of time, or to be able to drop everything and bring all hands to the pump at the drop of a hat.
Marketing teams alone can't produce tenders to win these competitions. The call for current and recent detailed experience and credentialing, plus extensive hypotheticals, take these contests to a whole new level.
Many bid documents are voluminous, complex, demanding and downright daunting. Sadly, some recently issued requests for tenders (RFTs) have been messy, internally contradictory, confusing and amended by various addenda.
Unfortunately, some addenda midway or even late in the process have made substantive changes to requirements or response formats, adding to workload, stress, ultimate cost and, arguably, disadvantaging those who get to work early.
Appointment durations are sometimes shorter as departments and agencies roll out programs faster to deliver on policies, and government programs frequently have finite lives. Procurement practitioners and the consultants they call on often demand more of bidders. Specific, explicit responses to questions and evaluation criteria are essential to pass the test. A cut and paste of last time is rarely enough to meet criteria this time.
Keep it snappy
To succeed, tender responses need to be short, sharp and written for each specific occasion. Often, you'll struggle to find a slot for your precious precedent material. Tender evaluation teams won't spend time hunting through general verbiage for the information they need.
Many tenders are now limited to a set number of pages and sometimes those limits are hard to fathom. The action has moved on from sending mountains of material to focused, for-the-occasion responses within strict space limits.
There are also now often strict limits on content. Only rarely will you be able to add a swag of generally-impressive "brochure-ware" – and that's a good thing because it mostly doesn't help anyway.
These limits will be enforced as evaluators, under pressure to produce an objectively defensible outcome on time, are not resourced to read all you might want to write. Plus, standardised procurement finds this much more manageable.
Opportunities to differentiate many bids through elaborate branding, extensive graphics, formatting and fluff factors no longer exist. Interestingly, some of the most popular contemporary rules around formats for responses will make tenders much harder work for evaluators to slog through.
Evidence based
Specific examples and well-crafted case studies will demonstrate your credentials. Don't rely on claims and generalities. Re-cut and customise in response to specific requirements and ensure these are contemporary and relevant. Many RFTs now demand numerous detailed case studies in very precise forms.
Expect your referees to be exhaustively checked. Government buyers are savvy and will not be fobbed off with feel-good references saying you are nice folk, personable professionals and good citizens. They require lots of specific information to support meaningful due diligence with appropriate referees.
Electronic submission is the norm, frequently accompanied by hard copy. Remember that much of your content will be loaded into procurement engines and databases.
The public sector looks for strong business practices, process, procedure and technology as prerequisites that can meet the scale of their operations. "Give us the work and we'll get more clever people to do it" won't make the cut.
You'll need to show how you can transition their work into your production and service delivery platform. We predict increasing interest in transition out too; that is, how you'll accommodate the client when they decide to transfer their legal services' purchasing to a firm other than yours.
It is still true that strong sales messages that resonate with the wider objectives of government must be skilfully woven through your response. Only occasionally now are you allowed an executive summary. Even if you are, don't depend on it to carry the sales pitch for a win.
To win, every sentence of your response must evidence the appropriateness, effectiveness, and efficiency of your work and that you "get" what government is after at both levels: details and overarching objectives.
Level playing field
The best news is that in these high stakes competitions, what you tend to lose in any particular tender battle is probably much smaller than what you stand to win. Recently, we've worked with several firms facing prospects of losing $3 million or $5 million or so in annual fees, but where a win and success would probably measure $10 million or even much more.
And it's not only the powerful and prestigious firms that succeed.
Governments have gone to great lengths to open up competitive processes to make it possible for small and mid-size firms to compete. Several small, niche providers plus a whole lot of firms that are new to panels have been appointed under the new purchasing models.
There were always many desirable clients in the public sector. Today more than ever there's a good case for many law firms to actively pursue government work, and the proof is there that you don't have to be part of the 'old club' to win.
Linda Julian is managing partner of Julian Midwinter & Associates, strategic practice development consultants. She leads a team that has written many hundreds of tenders.