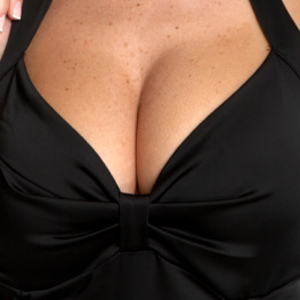 A German lawyer has accused his girlfriend of trying to kill him – by smothering him with her 38DD breasts.
The buxom beauty is before a German court accused of 'attempted manslaughter with a weapon' after her lawyer boyfriend claimed she tried to smother him with her breasts and pretend it was a sex game, the Daily Mail reported.
Unna-based lawyer Tim Schimdt told the court that he and his girlfriend had a difficult relationship but everything had been normal in the bedroom; but he claims that in May, while they were having sex, his 33-year-old girlfriend Franziska "grabbed my head and pushed between her breasts with all of her force". 
"I couldn't breathe any more, I must have turned blue. I couldn't tear myself free and I thought I was going to die," he told the court.
Schimdt claims he managed to escape his girlfriend's clutches and fled naked to a neighbour and demanded the police be called.
Franziska denies the claims, saying it was a sex game and that Schimdt knew what was going on.
According to the Daily Mail, Schimdt said Franziska tried to kill him after learning he was planning to leave her; he even claims she admitted it to him on the telephone by saying: "Treasure – I wanted your death to be as pleasurable as possible."