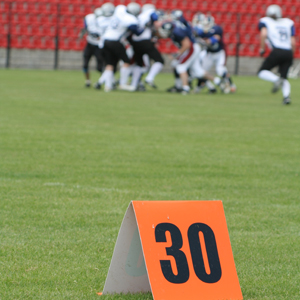 A scandal involving drugs, the illegal sale of memorabilia and the banning of a college football team has also claimed the scalp of a lawyer.
ESPN reports that the Ohio Supreme Court suspended felony criminal law attorney Christopher Cicero for one year after he was caught up in a scandal involving drugs, tattoos and gridiron.
Cicero met a tattoo parlour owner, Edward Rife, after Rife's house was raided by drug investigators in April 2010. During the course of that meeting, Rife revealed that players from the Ohio State College football team (the Buckeyes) were selling or trading memorabilia for tattoos.
Cicero, who donned the shoulder pads for Ohio State in the 1980s, then emailed the team's coach, Jim Tressel, to tell him this was happening.
Hey, you gotta support your team, even if it means breaching client confidentiality!
For Coach Tressel, this information from Cicero turned out to be a nasty hospital pass. He sat on the information, which was a violation of both National Collegiate Athletic Association (NCAA) rules and his contract, and he later lost his job.
The Ohio State football team was also banned this year from any 'bowl' matches (Folklaw's favourite 'bowl' matches include the Famous Idaho Potato clash and the TaxSlayer.com Gator fixture) this year and had the $389,000 it won in the Big Ten Bowl last year withdrawn. 
Cicero argued that Rife was "never going to be my client" when hauled before a disciplinary panel last year. Cicero further claimed that he met Rife to ascertain if Rife's business partner, one of his clients, was also involved in the case.
However, in an email to Tressel he stated that: "If he retains me, and he may, I will try to get these items back".
Rife was later sentenced to a three-year prison term for drug trafficking and money laundering.
With the Buckeyes back in form following an undefeated season, Cicero, now at a bit of a loose end, can devote more time to following his old team.