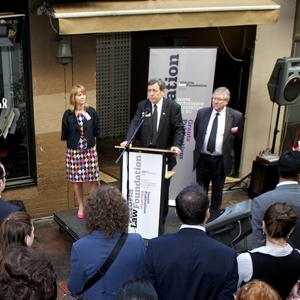 The pernicious rivalry between Melbourne and Sydney is a tale almost as old as time itself.
For Folklaw (hailing from 'Parts Unknown') it has long been a source of amusement and bewilderment to witness the increasing number of column inches dedicated to this jealous spat. 
Recently, it seems the well-established antagonism between Australia's two biggest urban centres has been ramped up, with the grown-up citizens of both cities seldom missing an opportunity to bowl a pot-shot up or down the Hume Highway at one another. 
Folklaw has long held the following sweeping view on the nature of the rivalry:
Nature of Melbournians: Extreme fascination with fashion and 'the arts'. Indoorsy. Love coffee, bikes, cult/niche stuff and pop-up cafes. Likely to work in new media, not-for-profit or in a cute bookstore.
Nature of Sydneysiders: Extreme fascination with the weather. Wear thongs even in winter. Love going to the beach, surfing and talking about NRL. Likely to work in professional services or IT and wear a shiny suit to work.
So, with this in mind, Folklaw investigated whether the start of the legal year in the two cities last week would shed any further light on the nuances of the conflict.
Well, it seems the devil is in the detail or, more pertinently in this case, the venue.
In Sydney last Wednesday (30 January), the Law Society of New South Wales hosted its $155-a-ticket Opening of Law Term Dinner at the swanky Strangers' Dining Room in Parliament House.
With its panoramic views of the Domain and floor to ceiling glass windows, Strangers could be classed as a "quintessentially Sydney" setting for such a hallowed event.
The Law Society had chief justice of NSW Tom Bathurst as keynote speaker and the dress code was strictly lounge suit.
Meanwhile, earlier the same day, Victorian lawyers were marking the start to the legal year by lining Hardware Lane in Melbourne's CBD for the annual Victoria Law Foundation Legal Laneway Breakfast.
Now in its 10th year, the breakfast is one of the most popular events for Victoria's legal sector and, seeing as it is in a laneway, it is that little bit bohemian and "soooo Melbourne". Guest speaker on the morning was Attorney-General Robert Clark (pictured).
Folklaw has no intention of weighing in on this bitter tale of two cities, but it does remind lawyers from the both cities that you are professionals, so it expects a good, clean fight in 2013.