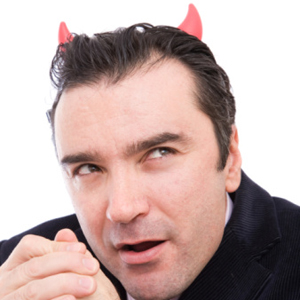 The behaviour of two lawyers in Florida in the US has been described by a judge as the "most abhorrent" he has ever seen in 25 years on the bench.
Considering some of the stories Folklaw hears, that is quite the claim; so let's look at the reasons such a sweeping statement was made...
Peter Mayas, of Florida, and Emmanuel Roy, of New York and Florida, were held in contempt of court and ordered to repay $US275,800 in fees to a client in September 2011, according to the Sun Sentinel.
This story began in 2008 when, despite not being authorised to practise law in south Florida, Mayas, 48, and Roy, 45, represented a client, Patrick Coulton, in a case involving drug and money-laundering charges.
US Magistrate Judge William Turnoff said in his report on the case that the pair managed to wring $US275,800 worth of cash and property out of Coulton's family for a minimal amount of work they weren't qualified to do.
As well as cash, the pair also received jewellery, a townhouse and a Porsche car from the Coultons for their legal services; after receiving all their payment they then helped Coulton plead guilty and handled his sentencing, before abandoning him to his fate in prison.
Paul Petruzzi, the Miami lawyer appointed by the court to take over Coulton's representation in August 2010, said the pair was "the reason people hate lawyers".
To make matters even worse, when the judge released his second report into the case last Friday (1 February), it was revealed the pair still hadn't repaid the $US275,800; the judge also stated that the pair had attempted to hide property and other assets to avoid repaying the money owed, and urged the US Attorney's Office to investigate both men for perjury and for their alleged roles in the possibly "fraudulent" sale of Mayas' former home to a friend to conceal his assets.
The judge also recommended that Roy and Mayas should face court sanctions for their behaviour in court and for wasting the court's time. He also said they should face further discipline by the Florida Bar, the Sun Sentinel reported.
Roy is now disbarred in Florida and New York, and Mayas is also currently suspended from practising law.
Roy and Mayas have a couple of weeks to file any objections they have to Turnoff's orders.
"I hope the [eventual] outcome of the case will give people hope that justice will eventually prevail," Petruzzi said.
Indeed, so does Folklaw; and that it does something to prevent the constant battering of lawyers' reputations...