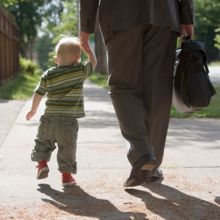 With experience cradling files like a baby and turning up to meetings with fairy stickers on her back, Janine Gregory at Slater & Gordon tells how to survive being a working parent.
With experience cradling files like a baby and turning up to meetings with fairy stickers on her back, Janine Gregory at Slater & Gordon tells how to survive being a working parent.  
I knew it was time to return to work when I shed tears because Steve Liebmann was retiring from the Today show.  I loved being a Mum, but part of me also missed the challenges and excitement of being a litigation lawyer.
When I first returned from parental leave, I found myself rocking files and humming nursery rhymes to myself but over time I managed to adjust to my double life.
In my experience, the early years of juggling work and parenting are pretty tough. Young children are entirely dependant upon you, and your emotional ability to cope with separation can be grueling.   
You learn the times when not to ask a parent how the kids are because you are likely to be met with a flood of tears.  For those of you who don't know the key dates for not asking these questions include: first day back at work, first day at kinder and the first day of school. My advice to any managers or support staff would be to have the tissues ready and be very supportive.
I certainly recall my first day back at work to conduct Articled Clerk interviews when just before the first interview a well meaning colleague asked me how my beautiful boy was.  Needless to say we were late for the interview and I am pretty sure he never asked a returning mother that question again! 
The experience of being a working parent is very different for everyone. The many variables in your life really determine how you manage to achieve both career and parenting goals.  These include the level of support you have at home, the assistance available from your family, your financial circumstances, travel times to and from work and the number of children you have, to name a few.
I have employed a Nanny for my two children and it has been wonderful for them to be looked after at home in the early years, but it too is not all plain sailing. I know only too well the turmoil that occurs when the Nanny is unwell or on annual leave while my retired parents constantly seem to be going on extended holidays!
If you want to have children, there are many choices to make and many hours can be consumed by asking yourself when is the right time to have children in relation to your career and who will look after my child when I am at work, but the reality is you just need to get on with it and you will find solutions.
One of the biggest challenges of returning to work after having kids is accepting that your participation at work absolutely has to change. I remember the days when I could stay back and finish the project that I was absorbed in – that was before kids. Now I need to get home to make sure I hear about their day, read them a story and see them before they fall asleep.
As a manager of more than 300 staff (and with personal experience) I need to be both supportive and understanding to the new working parents in my team. Meetings and work schedules will need to change to accommodate the needs of children as they move through various ages and stages. 
It is also important that your career goals are clearly discussed with your manager so that there are no uncertainties about what you want to achieve and when you want to achieve it. 
Flexible work arrangements can work really well in a law firm.  We have made a success of it in a high volume litigation practice - I don't accept that other parts of the legal industry can not do the same.  What is important is that lawyers, support staff and managers work together to create a culture of acceptance, support and understanding for new parents and parents with young children. You'd be surprised how this can help you achieve results for your clients and your firm. 
I now no longer cradle the files, but with a 4 and 7 year old, I have rocked up to meetings with fairy stickers on my back, clopped around the kindergarten tan bark in my high heels whilst squeezing in a fruit duty session before work and whipped up a wolf costume after a long day of meetings.
Whilst some days you do feel you have run a marathon before the day begins, it really does become all in a days work and I wouldn't have it any other way. 
Janine Gregory is the general manager of Slater & Gordon personal injuries group in Victoria. She manages about 300 staff and works four days a week.