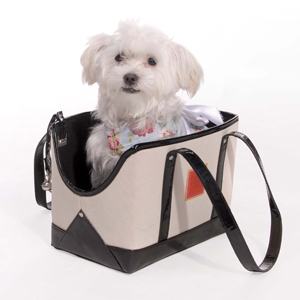 A British barrister did not keep a stiff upper lip and has launched action in the High Court after she was arrested for bringing her pooch into a clothing store.
A shopping trip for Marianne Yvette Perkins, an insolvency barrister in London, went pear-shaped after she visited the Harvey Nichols department store in the well-to-do suburb of Knightsbridge in September 2012.
According to the UK rag The Telegraph, Perkins had her small maltese puppy Lilly inside a carrier handbag and shortly afterwards, was approached by a female security guard whom Perkins' lawyer described as "demanding in a brusque fashion that she leave the store, saying it was store policy that dogs are not permitted inside".
How very rude!
Being a lawyer, and a barrister at that, Perkins questioned the demand, somewhat robustly it must be said, and pointed her finger at the guard as she left, in what she said was a "mock, sombre tone", and she and Lilly left the store.
However, that was not the end of the matter.
While descending the stairs at a nearby tube station, her lawyer said she was "surrounded by four to six men who took hold of her. The men were members of staff from the store".
From there, a bit of barny ensued, with Perkins claiming her arms were pinched and squeezed, and Lilly deliberately elbowed.
She was then taken to Chelsea Police Station and detained for five hours.
Unsurprisingly, Perkins was not amused, and she is claiming up to £1million in damages for alleged false imprisonment and personal injury to her and Lilly.
Really, while Folklaw doesn't want to pass judgment on the impending court case, it does think the Harvey Nichols staff should have kept calm and let Perkins move on, particularly as if you go onto the designer store's website, there is an IMAGE OF A WOMAN WITH A DOG IN HER HANDBAG!
And that dog is a bulldog, which is somewhat bigger than a maltese puppy.
That great symbol of the 'British bulldog spirit', Winston Churchill, could only think his country has gone to the dogs.