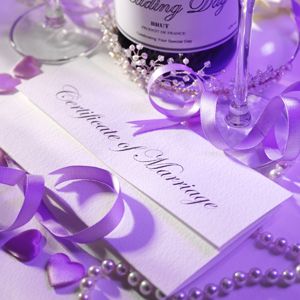 An American lawyer who secretly married a second time got busted when his first and current wife opened the post and saw their marriage licence.

The Jamaica Gleaner reports that New York lawyer Joseph Rosenzweig married a stripper, who he first met at the New York Dolls Strip Club (Folklaw prefers the band), at Jamaica's Rockhouse Hotel in 2004.
The obviously smitten lawyer, 15 years older than his paramour, certainly tried to be an attentive and providing hubby, giving her a credit card, an allowance, paying for all of her bills, and taking "lavish" vacations together.
What's more lavish than Jamaica?
No laws broken with that, as Rosenzweig said he was smitten and in love with the New York doll ever since meeting her in 1995.
What was an issue was that he was married at the time, and living with his first wife and their two daughters.
In fact, his deceit and bigamy was revealed when his second marriage certificate arrived in the post, only to be read by wife number one.
Ouch!
While Rosenzweig might have been consigned to the couch for a while, his troubles didn't end there.
Despite being so in love at the time of his marriage to spouse number two, trouble quickly started brewing in paradise.
NY Dailynews.com reports that Rosenzweig started having issues with his second wife's "highly unorthodox lifestyle which sometimes pushed the boundaries of Mr. Rosenzweig's comfort level."
This "highly unorthodox lifestyle" included the stripper's role as a priestess in the Afro-Caribbean religion Santeria, in which animal sacrifice is practised. Rosenzweig said she set up a "very large altar with all kinds of unusual things upon it."
No wonder Rosenzweig continued to live with his first wife!
By April 2005 he had cut off contact and financial support to the former stripper, with the marriage annulled two years later.
The scorned second wife then successfully contested a suit he brought against her, with a settlement reached in 2009.
Professionally, the New York court system was also catching up with Rosenzweig. It was nine years after he said "I do" for a second time when, in February, he was suspended for six months by a disciplinary committee for bigamy.
Folklaw hopes, like marriage, the suspended lawyer gives the law another shot once his suspension is lifted...