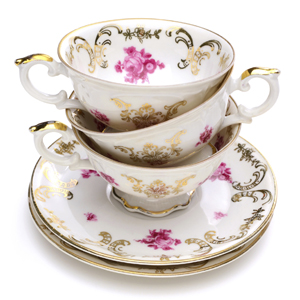 After berating plaintiffs and defendants in the small claims court for 17 seasons, TV personality Judge Judy has been slapped with her own ridiculous-sounding lawsuit.
Judge Judy (Judith Sheindlin) was sued after she purchased outrageously expensive fine china from her producer, Randy Douthit, during his messy divorce from wife, Patrice Jones.
Jones alleged the famous judge and Douthit entered into a fraudulent scheme to prevent her from obtaining the Christofle crockery in the divorce, TMZ reported. In the lawsuit filed by Jones, obtained by TMZ, Douthit sold the couple's fine china and flatware, apparently worth $500,000, to Judge Judy for just $US50,000 without the Jones' knowledge and consent.
Judge Judy promptly took the moral high ground and told the press she didn't want to be a part of the media circus stirred up by the dishes. But that didn't stop her delivering one of her signature scoldings to Jones, who the TV judge described as a "very unpleasant lady".
"[Jones] doesn't give a hoot about dishes. She cares about pressuring her ex-husband and the way to do that is to attempt to embarrass me," she explained to TMZ.
"I don't owe this lady a cent. And if this 50-year-old woman would spend her time more productively at trying to find a job, instead of abusing the judicial system with frivolous lawsuits, we would all be a lot better off," she added.
Burn!
In what is perhaps the most generous gesture between a celebrity and their producer, Judge Judy said she intends to return the dishes to Douthit.