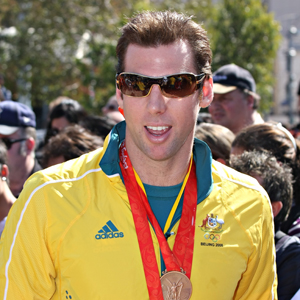 Former swim star Grant Hackett has sued yet another law firm – his second in a matter of months – in relation to his failed marriage.
Hackett has good form in the pool as a three-time Olympic gold medallist, but bad form on land as a man who drunkenly trashed his family's Melbourne home around 18 months ago.
Folklaw, whose swimming 'talent' is as reputable as an East German gold medal won in the heady days of the 1970s and 80s, wonders what it is about Australian male swimmers and bad behaviour when they're out of the pool?
Last month, five swimmers from the men's 100 metre relay team at the London Olympics, including James 'the [misfiring] missile' Magnusson, were fined for taking the sedative Stilnox just prior to the Games.
Then there is the ongoing saga surrounding former 'mean machine' member and Olympic gold medallist Neil Brooks, who has had a chequered history since hanging up his togs.
Hackett's amateur foray into interior decorating helped to bring about an end to his marriage to singer/songwriter Candice Alley, and set in motion a string of events that has put two law firms in two states firmly in his sights.
In the latest action filed in late April, Hackett alleges that Melbourne firm Nevile & Co made misleading representations to him with regard to a "financial agreement" he sought from the firm.
Such agreements are similar to pre-nuptial agreements and can be made before or during a marriage or after a couple separates.
According to News Limited publications, Hackett alleges he suffered financial losses, including legal costs, as a result of Nevile & Co's conduct.
Hackett's latest legal missive comes after he instigated  proceedings against the Queensland firm Mullins Lawyers, claiming that a financial agreement they drew up for him just prior to his wedding in 2007 did not comply with legal requirements, and this problem was not picked up when changes were made to the agreement in 2009.
Hackett didn't always have such an unfavourable view of lawyers.
This Lawyers Weekly report back in 2005, when the 1500 metre swimmer was in his pomp, reports that a lovely time was had by all at McInnes Wilson Lawyers in 2005 when Hackett was a guest at a lunch hosted by the firm's Brisbane office.
Folklaw will wait to see if Nevile & Co and Mullins Lawyers attempt to break bread with the litigious former swimmer in order to broker a settlement.