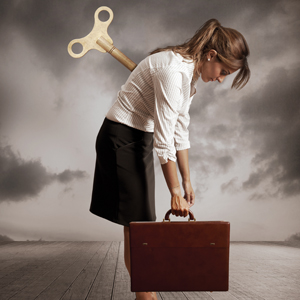 There has been much talk of tackling mental health issues in the legal profession, but law firms need to change their culture if they want to stop mental health problems before they start, write Paul Vine and Andrew May.
There has been much talk of tackling mental health issues in the legal profession, but law firms need to change their culture if they want to stop mental health problems before they start, write Paul Vine and Andrew May.
In February this year, an article in this magazine by a young lawyer at a big law firm detailing his battle with depression and the lack of support he found within the law sparked great debate and comment and a new discussion about mental health in the legal profession.
The legal profession has for too long been obsessed with debating why lawyers are more susceptible to depression than any other profession and how to assist those people who might suffer mental health issues.
In the February article the young lawyer asked, in relation to his recovery, "why didn't I get here earlier?" We suggest that the better question is "why did I get here at all?"
We believe, when it comes to dealing with mental health issues, prevention is better than cure.
What the profession needs is to take the next step towards positive psychology and work to boost individual and team wellbeing, productivity and engagement, which should not only reduce the incidence of mental health problems, but allow people to sustainably perform at their best.
Balanced approach
There's no doubt that mental health awareness programs, mentoring and counselling helplines are positive and necessary steps. However, their focus is on dealing with mental health issues and they are simply not equipped to provide the positive elements required for lawyers to achieve their personal best.
Law firms are not shy about promoting what they claim to offer people, suggesting that they run great places to work, with positive, motivating and interesting environments; foster relaxed and friendly cultures; have innovative work practices, and offer balance between work and personal life.
However, if that was all true and it worked, we wouldn't be having this debate.
An interesting question from our experience is why in-house teams (and corporates generally) are embracing performance coaching but law firms are not.
Change is hard, but refusing to explore better options means we will continue to see increasing rates of mental health issues in the legal profession, high turnover of highly-skilled people, and lawyers generally performing well below where they could be.   
The Performance Clinic (TPC) takes a holistic approach to personal effectiveness, incorporating psychology, productivity, recovery and physiology. Our research and work with clients has shown us that people need all of those elements to reach their personal best and that is why the current initiatives in the legal profession will never be enough.
Case studies
Telstra Legal Services, headed by group general counsel Carmel Mulhern, is in the middle of a TPC program. Talking about the program, Mulhern said: "[The] program addresses how lawyers need to balance stress with recovery, how we can develop performance through exercise and nutrition and how we can train our minds to help manage stress, stay calm and remain focused."
She added: "Telstra is a fast-paced organisation and the demands on the legal services team are increasing. As a business, we are striving to improve customer service and change the way customers are talking about us. If we want to really effect this change, it is equally important that our staff have satisfying careers and lives both inside and outside of work so they can also advocate for Telstra. To make [these] changes ... will require real discipline and effort but it is a challenge which [we are] taking very seriously."
Will Irving, group managing director of Telstra Business, said about the problems facing the legal profession: "Put bright, hardworking people — you don't get through law school unless you are — in a subservient environment, ask them to work to the limits of their endurance, and then make them responsible for everything that might go wrong, and you have the perfect hot-house for mental and physical health problems to develop."
But Irving added that it doesn't have to be this way: "We too can make use of other professionals to overcome the challenges we face — and enable us to manage the mental and physical fatigue, loss of productivity and missing out on what really matters to us that too many of us have come to accept as 'normal'."
Irving talked about the impact the TPC program had on Telstra Business: "We got an accurate baseline of the health of our team and looked at the underlying ways we work — from sleeping to waking, from email to meetings to saying no to distractions, to give us back the time and the control of our workdays and lives."
Law firm Kemp Strang also engaged TPC to assist in boosting productivity, mental agility and physical fitness within the firm. The program aimed to help partners and senior staff work more productively, deal with pressure more effectively, and take satisfaction in their achievements, both in their professional and personal lives.
The firm's managing partner, Michael Joseph, said the firm is "working on sustainable improvements that will change our culture and make our firm a better place to work".
Dion Gooderham, general counsel at CGU Insurance, said, for his company, getting outside assistance "provided a range of techniques and ideas to help each individual be more productive, resilient and even personally satisfied with themselves".
He added: "Lawyers often tend to ignore some of the broader aspects of performance in favour of pure intellectual effort, which can take its toll over time. "
Taking action
It's time for the legal profession to wake up, realise that it does not need to continue reacting to mental health issues faced by its members and that there is the opportunity to take positive steps so that individuals and teams can reach their own personal best.
The people quoted in this article demonstrate the personal results and the value you will get out of your staff if you invest in them and assist them to reach their personal best, the significant return on your investment and the positive effects of making good on promises.
People might work less total hours, but a more engaged, productive and happier workforce will improve retention rates, improve client satisfaction and result in people doing more in less time.
It will also hopefully mean we will see fewer articles similar to the one written by that young lawyer in February.
Paul Vine is the general counsel and company secretary of Bell Financial Group Ltd and a consultant performance coach with The Performance Clinic. Andrew May is the CEO of The Performance Clinic.