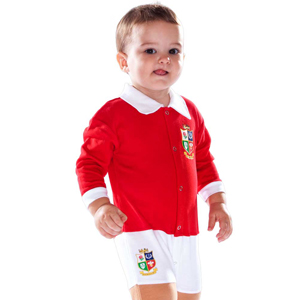 A former lawyer has set up a business that allows you to show your true (team) colours – by kitting out your baby in a Footysuit.
A Footysuit is basically a babygro in your team kit (see photo).
Former lawyer Bevan Read said he was inspired to set up the company in 2003 when he received a number of football-themed gifts following the birth of his children.
"I started looking around all the different football codes in the world and the products that were available for infants. I felt the products lacked imagination, and it seemed obvious no-one was putting any real thought or effort into the products."
So Read thought up Footysuit; he started looking into the product and getting prototypes made in 2004, but it was only two years ago, when his son was born, that he "started getting serious" about the product again.
"After 18 months, about 40 different samples and many thousands of dollars I started to get the quality I was after and decided it was time to commercialise the idea."
The website was launched this week and is licensed to make infant clothes for some of the worlds' largest football and rugby brands, including for the British & Irish Lions, Manchester United, Liverpool FC, Barcelona, Juventus and the All Blacks.
It's also producing Footysuits for New South Wales and Queensland – just in time for the State of Origin.
The company is also supplying Footysuits directly to some football clubs in the UK.
Footysuit is so far a two-man operation, with Read and his business partner putting in 18 hour days, seven days a week at the moment – not so different to working in a law firm then!
"Hopefully one day we can stop for a moment and look back on what we've achieved. I look forward to that day, and I'm sure there'll be a few beers enjoyed as well," joked Read.
Read, who practised during the '90s with law firm Rees R & Sydney Jones in Rockhampton, moved to the UK in 1998 and worked in various legal and business roles, before returning to Australia in 2003.
He said he has not ruled out returning to law in the future and still lists 'solicitor' as his 'usual occupation' when travelling through customs.
"I get more enjoyment from law today than I did when I was practicing," said Read.
"I can't help but feel the experience I have gained from being in business (and starting new businesses) makes me much more valuable as a lawyer."