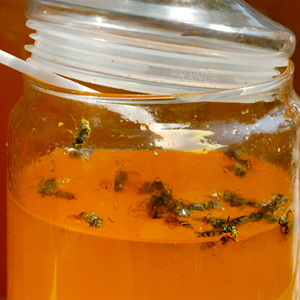 How can we put this simply? An elderly lawyer failed a breath test when driving the car of a paralegal's mother after the young paralegal was allegedly co-opted to be part of an apparent sting by a lawyer at her firm acting for a DJ called 'The Love Sponge' in a defamation case against the boozed-up lawyer's DJ client 'MJ'._x000D_
Confused? We are, sort of, but stick with us; this one is worth taking the time to digest.
The elderly lawyer in question, 65-year-old C. Philip Campbell, alleges he never stood a chance.
The Tampa Bay Times reports that Campbell was arrested in late January after failing a breath test a few blocks from the bar at Malio's Prime Steakhouse.
Campbell's presence at the bar and his departure was all relayed to a local cop staking out the area with colleagues by one Adam Filthaut, who just happens to be a good friend of the cop and a lawyer at Adams & Diaco (A&D).
A&D also just happens to be the law firm acting for Florida DJ Bubba 'The Love Sponge' Clem in a bitter defamation action against Campbell's client, Todd 'MJ' Schnitt.
According to the Times' reportage of the subsequent hearings as to whether Campbell should lose his licence, Campbell's attorney argued his arrest was in "bad faith" and illegal.
To muddy these murky waters even further, joining Campbell at the bar for drinks was an "attractive" 30-year-old paralegal from A&D, who lied and said she worked for another firm when she struck up a conversation with him.
Campbell was arrested driving a car owned by the paralegal's mother, with the paralegal a passenger, and when he was arrested for DUI they couldn't release the car to the paralegal because her licence was suspended.
Folklaw promises it is not making this up, but the situation could surely only be more absurd if an alligator with a sweat-up drinking Gatorade had arrived on the scene in a haughty manner humming a tune from the classic Mountain Goats (one of Folklaw's favourite bands) album Tallahassee, just down the road from Tampa, but hopefully not a road Campbell is driving down.
And why were the DJs suing each other anyway?
'The Love Sponge' had said some not so lovely things about Schnitt's wife in some sort of retribution around 'The Love Sponge's' arrest and acquittal on animal cruelty charges after his show featured an on-air castration and slaughter of a wild boar.
With Monty Python-esque understatement, The Slatest reports that this trial has been something "of a circus".
I bet it has!
A&D deny any wrongdoing and the paralegal's attorney said that there was no plot to get Campbell arrested.
Sure, 30-year-old women love speaking to guys in bars more than twice their age.
The DUI sergeant at the scene told the Administrative Hearing that Filthaut had called him previously about Campbell's drinking at the Steakhouse Bar, and that on the night in question Filthaut had updated him on Campbell's movements inside.
The sarge said he didn't know if these updates from Filthaut came from inside the bar or not.
Not surprisingly, the Times reported that the Florida Bar is looking into the allegations of lawyerly conspiracy.