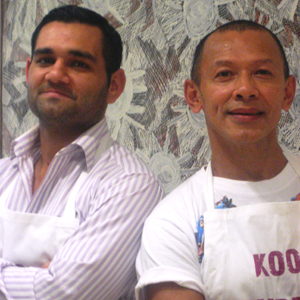 Kangaroo, emu and crocodile are probably not what most lawyers normally go for at lunch, but that is exactly what was on the menu at Gilbert + Tobin's Sydney office last week.
G+T's head of corporate social responsibility Eloise Schnierer and G+T's in-house cook Clifton Ah Sam joined forces with Aboriginal cook Corey Grech (pictured, on left, with Ah Sam), who runs Aboriginal cafe Kool Purple Kookas in Redfern, to design a special lunch menu for National Reconciliation Week.
Kangaroo lasagne, emu burgers, crocodile wrap with a bush-berry pickle and a chicken and vegetable soup infused with Lemon Myrtle were some of the items that featured on the special menu.
Yummy; Folklaw's getting hungry...
Ah Sam said: "We had to modify [the dishes] by using words like lasagne, curries; words people were familiar with. Had we gone a bit too traditional [it might not have worked so well]."
Schnierer said the idea for the special menu came to her when she read Reconciliation Australia's website "where they suggested people show their support for National Reconciliation Week by eating some traditional tucker", so she decided to bring her friend Grech on board to add some traditional inspiration to G+T's lunch menu for the week.
"Clifton is Fijian so there was an amazing cultural exchange of recipes," she added.
Ah Sam said the food was really well received by all the staff: "People really enjoyed it ... we kept running out."
The crocodile wrap was such a popular choice that it ran out in 13 minutes the day it appeared on the menu.
This is the first time the firm has done a traditional-themed food week like this, but it is definitely something they will do again, said Ah Sam.
Grech, who teaches Aboriginal children about bush food and healthy cooking, also visited G+T's Sydney office to speak at a National Reconciliation Week morning tea for staff members.
As well as the Aboriginal-inspired menu, G+T had speakers from different indigenous representative groups visit the office to speak during the week and also ran competitions for staff to test their knowledge of local indigenous culture.
Even the firm's bathrooms played a part in marking National Reconciliation Week...
"[We] got some people who speak Gadigal and Boon Wurrung (the languages of the traditional owners of the land on which Sydney and Melbourne respectively are built) – and put some words up on the backs of toilet doors,  and I did go into the bathroom one day and hear someone trying to pronounce one of the words," revealed Schnierer.